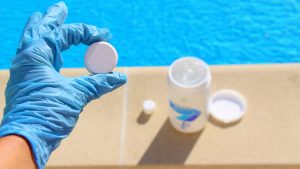 KIK Consumer Products COO Jeff Schmitt recently announced that the company's BioLab division will make a $170 million investment to build a new chlorine products facility.
According to a press release from the Office of the Governor of Louisiana, the plant will be in Westlake, La., on the site of its previous facility that was damaged by of Hurricane Laura in 2020.
As reported by Pool & Spa Marketing previously, the plant produced up to 70 per cent of North American chlorine treatments, leading to a shortage.
BioLab built its first manufacturing facility in 1979, but a major component of the manufacturing facility was destroyed as a result of Laura's impact on the region. The new facility will replace the old manufacturing plant and restore the jobs that were lost resulting from its destruction. It is expected to be completed in 2022.
The new facility will produce trichloroisocyanuric acid, or TCCA, which is a chlorine-based sanitizer that kills micro-organisms, including bacteria; prevents algae growth; keeps water clean and protects pool equipment. Featuring state-of-the-art equipment, the new facility will have an improved output compared to the previous facility, with a significant increase in production capacity.
"We are proud to bring a new state-of-the-art facility to Westlake, to bring back great opportunities for our people, and deliver the pool cleaning products that are in high demand," said Schmitt.