By Michael Willis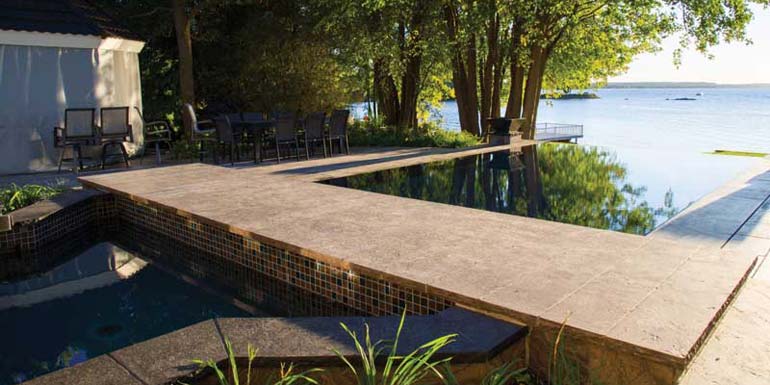 Orchestrated correctly, an infinity pool can create the illusion that a pool and horizon have merged as one. Imagine this scenario: a potential client browses through a project portfolio looking at photos of pools. They view a photo of an infinity pool, but at first glance they do not realize they are actually looking at a pool. This is the ideal result any aquatic designer attempts to achieve when creating these types of pools. Very few watershapes can rival the appearance of an infinity pool and the seamless transition between it and an adjacent body of water. Similar to a vanishing-edge pool, a perimeter-overflow pool takes a design to a whole new level of intrigue and awe, not to mention technical expertise. The complete stillness, reflective qualities, and mirror-like surface result in an appearance that can be breathtaking.
For this particular project located along the shores of the Ottawa/Gatineau River east of Ottawa, Ont., the homeowner was looking to update his existing polymer wall, vinyl-lined pool. Although the homeowners enjoyed their pool, used it daily for swimming exercises, and spent many days/nights entertaining alongside it with family and friends, they were never quite satisfied with its lackluster appearance. In fact, they always felt the existing pool poorly represented their property and the incredible vista overlooking the river and adjacent protected wetlands. Having travelled extensively to resorts and vacationed on properties that featured incredible water vistas which were highlighted by infinity pools and water features, the homeowners wondered if it would be possible to achieve a similar look within their backyard.
To the drawing board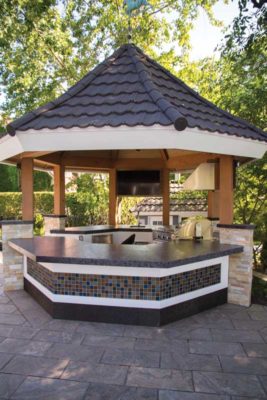 This unique and challenging project was brought to the attention of a local design firm, Studio 853 and principal designer Chantale Charette. Her design studio caters to high-end clients with a goal to create a seamless and flowing design—from the interior to the exterior. Following site visits and discussions with the homeowner, as Charette dove deeper into the design phase, she quickly realized the complexity of dealing with a watershape this advanced was above her understanding. If this grand vision was to be a success she needed to bring on-board an experienced contractor/designer who was skilled in intricate custom high-end watershapes.
As a result, she contacted Roger Willis Contracting, an aquatic design/build contractor, also in Ottawa, whom she had collaborated with on previous projects. Their specialty is designing and building unique aquatic projects. The Willis team, together with Charette, took the initial design concept of the pool through numerous revisions. Many elements were added to the overall design, including water and fire features, a covered entertainment space, limestone and granite patios, and ultimately the knife-edge perimeter overflow and vanishing edge. Careful consideration was also taken to create a design that was energy-efficient and sustainable.
The 'green' design approach
The chosen construction method for this project was a cast-in-place concrete structure incorporating the use of insulated concrete forms (ICFs). By using this technology, the pool walls would be completely insulated, thus reducing the amount of conductive heat loss through the pool shell to the backfilled areas around the pool. Evaporative heat loss, which is the largest heat loss in a pool, was handled by incorporating an automatic floating slat cover. Further, the cover reduces the fresh water makeup, chemical consumption, and maintenance costs of the pool.