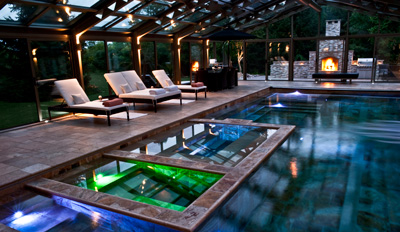 Poolscape Inc., a swimming pool design/build firm in Burlington, Ont., was a finalist in the International Swimming Pool Exhibition Piscina BCN 2011 awards competition, which was recently held on Oct. 19.
The company's 'green' swimming pool installation, which was featured in the October 2010 issue of Pool & Spa Marketing, finished in the top four projects in the competition's 'residential' category. The project was selected based on its use of a number of key elements that allow the pool to achieve maximum energy efficiency.
In contrast to other swimming pool design award competitions, Piscina BCN selects only one winner from each category (residential, wellness centres and recreational sports facilities) via a jury panel made up of professionals designated by the Catalonia Institute of Construction Technology (ITeC). Poolscape was the only North American firm among the 20 finalists that were selected out of more than 60 companies that entered the competition.
Piscina BCN and its awards competition are held every two years at the Gran Via Exhibition Centre in Barcelona, Spain. The show, which is the largest in Europe, averages more than 500 exhibitors and 20,000 participants from the pool and spa industry.