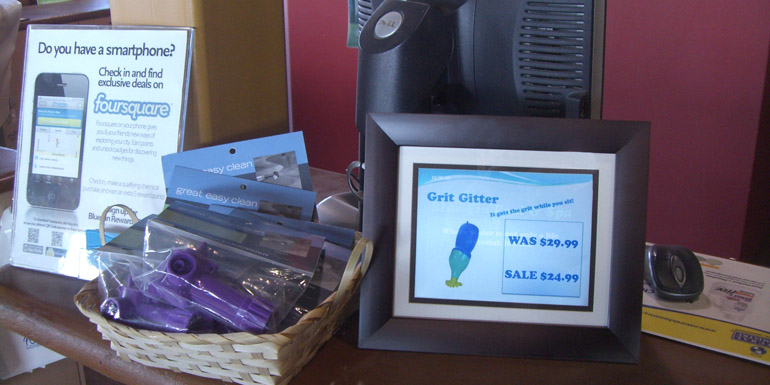 By Ted Lawrence
Typically, when someone thinks of signage they conjure up images in their head of big block letters on the front of a building or a piece of rectangle-shaped plastic with vinyl letters labelled 'Pool Store.' However, this is merely only one type of retail signage, and in some cases these signs may not be the most important.
Change how the consumer thinks
Retail signage can change the way the consumer thinks about a store, the products it sells, and in most cases, they sometimes even encourage them to buy a lot more.
Retail signage can be classified into five distinct categories: promotional, educational, digital, announcement, and lifestyle. A successful swimming pool retail store should have all five to maximize the benefits each sign delivers as they will help pedal the business forward to the next level.
Promotional
From pool stores to coffee shops, promotional signs are the most commonly used sign in every business.
Promotional signs can be seen every day (e.g. 'Buy one get one 25 per cent off' or 'Clearance Sale' and so on. These signs are effective; however, they need to be brought to another level and work to sell more products rather than simply one or two of something.
For example, what would a consumer say sounds better: 'Buy two, get the second half off' or advertising 'Three for $3'? Consumers today want simplicity and do not want to do math. Therefore, the second option sounds better as the consumer immediately knows if they buy three items it will cost them $3. This is why retailers are seeing volume-based discounts becoming very popular (e.g. five for $5, 10 for $10 and so on).
The same can be said about discount signage. More retailers are leaving the common practice of 'per cent off' and using the dollar value savings instead (e.g. instead of advertising 20 per cent off, retailers are now advertising $10 off a $50 purchase.) Once again, in this scenario, the consumer does not need to do any math, they know if they spend $50 they get $10 off.
Remember, simply adding a promotional sign to a display can increase sales of a particular item as much as 12 per cent.