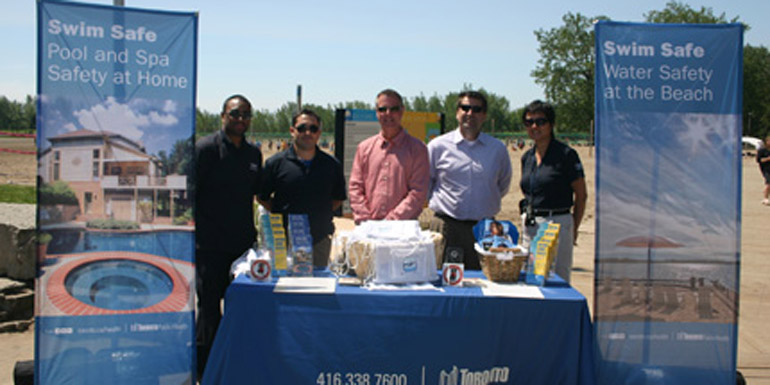 A new city of Toronto public awareness campaign, which looks to educate the public on the importance of water safety, as well as raise awareness about lifesaving and drowning prevention, was recently announced at the city's Woodbine Beach.
Work on the campaign started last year in response to the increase in recreational drownings. As part of its development, a number of external organizations such as the Lifesaving Society, Natatorium Consulting Services, and Pool & Hot Tub Council of Canada (PHTCC) were consulted in the creation of a resource document for swimming pool and spa owners titled Swim Safe: Pool and Spa Safety at Home. Toronto Public Health released the 32-page pamphlet in the spring.
In addition to providing helpful information on supervision, enclosures, and basic rules for the use of pools and spas, the document also addresses water cleanliness and treatment.
"Educating the public is a key element in supporting a layered approach to water safety, so we are pleased to acknowledge the fine efforts of the City of Toronto in this regard," said PHTCC executive director, Robert Wood. "It is also encouraging that Toronto Public Health turned to the Pool Council for input when the water safety pamphlet was being developed. The organization is well recognized for its expertise in this domain."
The water safety and drowning prevention campaign will be introduced to the public at selected parks and playgrounds across the city throughout the summer.