Understanding the inspection reports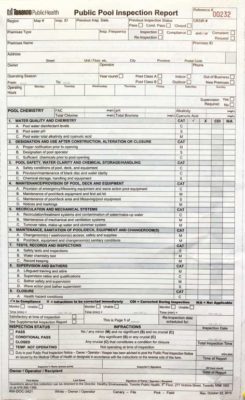 The SwimSafe inspection reports have three main sections. The first section, like its predecessor, is designed to capture key information about the aquatic facility, including particulars such as address, business hours, and key contacts.
The second section relates to infractions of the regulation and inspection findings. This section is divided into nine key headings related to health and safety issues identified in the regulations ranging from water chemistry to closure. Each heading is further divided into varying subheadings which identify the severity of the infraction, which can be categorized as minor, significant, or closure.
During inspection of an aquatic facility, PHIs review each of these subsections for compliance with the regulation. Compliance is noted on the inspection form with a checkmark; an 'X' represents non-compliance. This eventually enables the PHI to identify the overall outcome of the inspection, as well as assign the appropriate SwimSafe disclosure inspection notice. At the discretion of the PHI, operators may be allowed to correct certain violations identified under some subsections while the inspector is present. This action is identified on the form as corrected during inspection (CDI).
The third and final section identifies the inspection outcome, date and time of the report, date of inspection, total time taken for the inspection, and sections for operator and PHI signatures.