Keep the neighbours informed
Mother Nature can be a menace to the landscape and swimming pool industries; therefore, patience on the contractor's part as well as on the client's end is important. All contractors know landscapers are typically sweeping the street at the end of a two-week pool and landscape project. By this time, there is a good chance neighbours have become annoyed with the noise and dust they have had to put up with. One way to avoid this is to tell clients to inform their neighbours they are having work done and maybe even invite them to a pool party when the project is finished.
Further, a key element to running an efficient jobsite is respecting not only the immediate neighbours adjacent to the job, but also the neighbourhood around the worksite. This is as simple as keeping the road clean and placing pylons where necessary to avoid any liability issues or accidents. On occasion, this author has purchased carwash coupons to hand out to neighbours adjacent to the worksite to compensate for the dust and noise that has occurred. In some instances, this generosity generated extra work from those who were affected by the project.
Another important detail is to deal locally with reputable contractors as this allows for a prompt installation and less downtime.
The importance of safety
Safety has to be one of the most critical components of any job site as there are no second chances—especially when it comes to kids. With recent tragic events of drowning and near drowning in pools under construction, landscapers and pool builders can never make the jobsite too safe.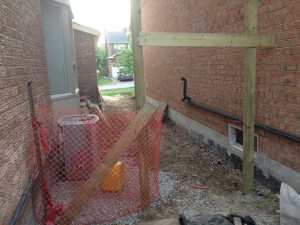 The more accountable a company is with regards to safety and accident prevention, the more others will want to work with them. To do this, it is important to become familiar with municipal bylaws for each jobsite, e.g. with respect to diving boards, pool fences, and property or structure setbacks. In these cases, landscapers who want to work with a pool builder should connect with a reputable company, and vice versa, as both companies will respect each other's professionalism, hard work, and creativity. Typically, 75 per cent of a landscape company's projects involve work with and around swimming pools; therefore, it is important to get involved with other trades and companies in the business. Share and learn from each other's experiences as both trades are in this together and neither should slander or belittle one another should problems arise on a project that is under construction. Should this happen, it can cause unnecessary tension on the jobsite and loss of respect from the client.
Knowledge is power
Landscapers and pool builders should have basic knowledge of each trade not only to promote a particular project, but also to help the client understand all of the available options. For example, when it comes to a pool and deck renovation, on the pool side of things, options such as coloured light-emitting diode (LED) lighting, automation systems, and the installation of new plumbing can be discussed. On the landscaping side, when reinstalling interlock, landscapers should be accountable for their work. For instance, there should not be any settling in the patio as long as it has been compacted properly, but if there is long-term concern, present the option of using dry concrete or dry-pack as this is a stabilized base material for interlocking, concrete and retaining walls. A five-year old project that looks the same as it did when it was first completed reflects well on both companies in terms of workmanship, quality, and pride.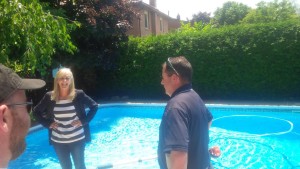 That said, it is important to reinforce the significance of a professionally and efficiently run jobsite when it comes to company owners involved in the pool and landscape construction industry because each will reflect on one another.
In general, the most important step is the initial site visit with the client; therefore, it is important everyone involved on the project is there. In terms of the homeowner, it is critical both spouses are present for this meeting as well so any chances of miscommunication can be avoided. Confusion can be detrimental as a project starts moving along. During this first meeting, determine the client's needs versus wants, and ultimately their budget. Having a knowledgeable designer who is fluent in both pool and landscaping techniques is critical and will actually eliminate misunderstandings and costly job errors.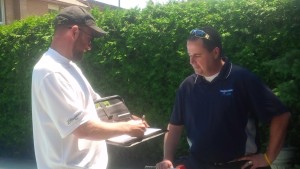 After the pool has been selected and a landscaper has been lined up, it is essential for all parties to pay the homeowner another visit to review the plans, as well as go over the site access, grading, obstacles, and general expectations from all involved. This is the defining moment where everyone will figure out who is responsible for the different aspects of the project. One of the most overlooked items on a landscaping and pool installation job is site access restoration and who will be responsible for fixing everything to the way it was before the project was started. This author recommends having the landscaper handle this restoration work, and when doing so use a budgeted amount in the contract rather than a set amount. There are too many variables when it comes to pricing site access repair as it can become very subjective and costly if not handled properly. Lastly, scheduling is another key item that has to be taken care of. There must be constant communication between crews to run an efficient jobsite. Decreased waiting time between trades will increase customer satisfaction. Remember, a happy customer tells one friend, while an unhappy customer tells everybody.