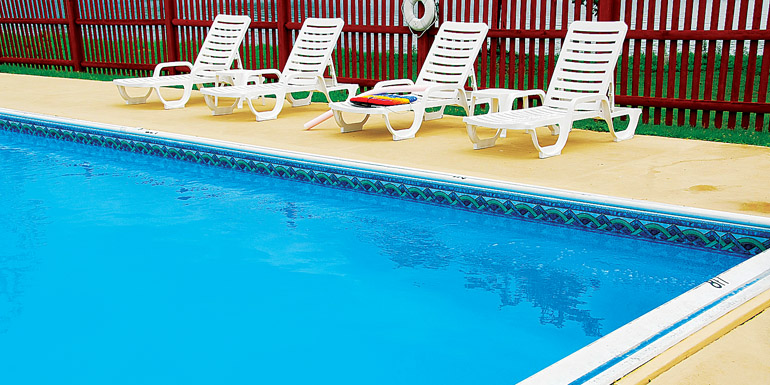 By M. Troy McGinty & Ray Denkewicz
Salt chlorine generation has been used as a primary sanitizer in swimming pool applications as early as the 1960s. Today, there are more than three million salt-chlorinated pools around the world—a number that continues to grow significantly every year. Most systems can be found on residential pools but, within the last decade, this sanitation equipment has made inroads into the commercial pool market.
Historically, salt chlorine generators for commercial pool applications suffered from limited chlorine production rates, difficult and space-consuming installation requirements, and inadequate technology. However, as a result of increased consumer demand, along with a recognized decrease in the hazards of chlorine transportation, storage and use, and lower pool sanitizer operating costs, salt chlorine generator manufacturers are developing simpler and more robust systems for the commercial pool market.
Past practices
Salt chlorine generators for commercial pools have typically used high concentrations of salt (5,000 to 6,000 parts per million [ppm]) and intricate plumbing configurations that require multiple generating cells to provide adequate sanitization. However, commercial chlorine generators to date have been primarily based on existing residential chlorine generating equipment, which are naturally sized for much smaller bodies of water, with significantly less chlorine demand.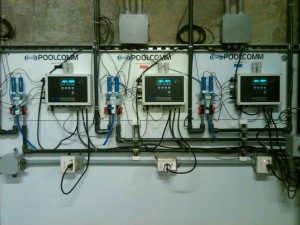 When applied to a commercial pool, multiple residential systems, comprised of several controllers and salt cells, must be plumbed together to deliver the requisite chlorine. The average residential pool size is approximately 75,000 L (20,000 gal) whereas the typical commercial pool in the hotel, motel, apartment, and condominium (HMAC) market can range between 150,000 to 189,000 L (40,000 to 50,000 gal).
Due to the higher bather loads associated with commercial pools, many salt chlorine manufacturers suggest the average outdoor commercial pool will require more than twice the chlorine as a residential swimming pool of the same volume. So how much chlorine is that exactly? It is suggested a 189,000-L (50,000-gal) outdoor pool will require approximately 454 L (120 gal) of 10 per cent sodium hypochlorite (NaClO) or 82 kg (180 lbs) of 65 per cent calcium hypochlorite (Ca[ClO]2 per month. Therefore, the chemical feed equipment would be required to deliver 15 L (4 gal) of sodium hypochlorite or 2.72 kg (6 lbs) of calcium hypochlorite each day in a 30-day cycle.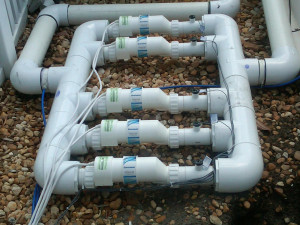 Most commercial peristaltic chemical feed pumps and chemical erosion feeders are quite capable of meeting these chlorine production demands. Until recently, however, few equipment manufacturers have made an effort to produce chlorine generators that could yield these higher sanitizer rates using a single controller/single salt-cell system as has been the practice with residential pools. The most common high-output salt chlorine generators for residential pools produce approximately 0.6 to 1 kg (1.5 to 2 lbs) of chlorine per day, which is not nearly enough to satisfy the chlorine demands of the average commercial pool.