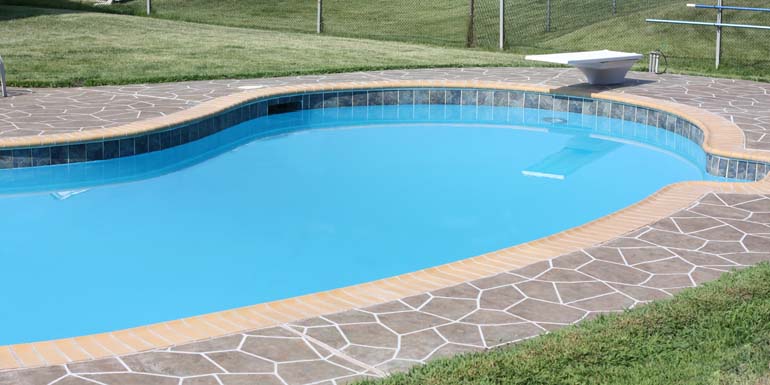 By Elena Danke
Today's concrete pool decks no longer need to be plain grey. There are many options on the market that allow pool designers/builders to beautify a concrete pool deck. Aside from esthetics, should builders go to the trouble of designing an elaborate concrete deck, they should also understand the advantages of protecting it with a deck coating system.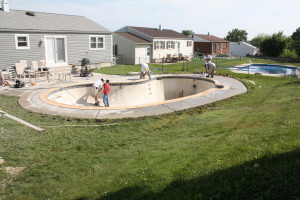 When designing a new swimming pool project, deciding what materials will be used to construct the pool deck can sometimes be difficult to determine. Where one building material may seem like a more sensible solution over another, keep in mind there are some important factors to consider—especially when dealing with concrete pool decks.
The case for deck coating systems
Concrete, whether stamped, stained or pigmented is not waterproof. Exposure to the elements (e.g. rain and snow), or simple spills and splashes from the pool are all factors that can significantly increase the likelihood of cracking, heaving, spalling (chipping/flaking) and discolouration.
For instance, when rain falls onto the pool deck, it penetrates the concrete and any joints in the deck. Water accumulation can have multiple effects on a non-coated concrete pool deck and the surrounding area. If a significant amount of rain should fall, it can cause the soil beneath the deck to wash out, which causes heaving and movement in the concrete. As a result, cracks can form, which are not only esthetically displeasing, but also create even larger areas for future water penetration.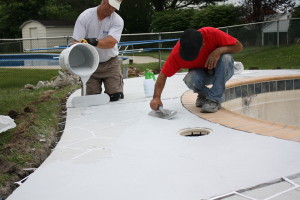 Non-coated concrete decks are also less resistant to the chemicals used in balancing pool water—especially when concentration levels are higher due to improper care/dosing. By using a coating system, the pool deck is more resistant, and therefore less likely to become damaged from splash out and/or overexposure to pool water.
Thermal movement caused by temperature swings can also cause concrete pool decks to shift and swell. Thermal shock occurs when surface temperatures are hot and it rains, as rain water is colder than the deck, it literally shocks the concrete, which leads to possible cracking.
To combat this, coatings or micro-toppings are available with increased flexibility, which can help bridge and hide some of the cracks. Not only is it more appealing to the eye, it also helps to maintain the integrity of the waterproof seal.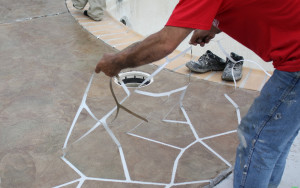 Another factor to consider with respect to concrete pool decks is the water that permeates into the soil can also travel through the concrete pool shell, causing pool coatings to delaminate. This is another reason why it is always recommended that the surrounding deck be waterproofed in addition to the swimming pool.
Finally, leaching vapour drive (i.e. water vapour constantly diffuses through building materials from the warm, humid side of a structure toward the cold, dry side) from the soil can cause discolouration on uncoated concrete decks. While a 'weathered' look is sometimes desired, this is not the effect that would result. A weathered look can be easily created by staining a concrete coating system prior to application. This not only creates a beautiful looking deck but also protects it from the elements. It would be a shame to waste money on a beautiful stamped concrete deck, only to have it littered with cracks a few months after finishing it.