Mechanical dehumidification vs. the status quo
A new breed of waterpark developers are beginning to plan long-term corporate missions of providing better IAQ and employing green principles, while also considering or employing the pay now method.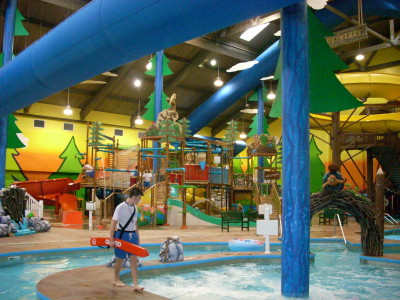 One example of this is Splash Universe, a Shipshewana, Ind.-based waterpark developer that recently opened two identical 2,323-m2 (25,000-sf) indoor waterparks in Shipshewana and Dundee, Mich. Both facilities feature a green approach and use mechanical dehumidification equipment employing several heat recovery strategies. Each facility's dehumidifier supplies 18.8 m3/s (40,000 cfm) and has a moisture removing capacity of 256.3 kg/hr (565 lbs/hr). Besides several heat recovery strategies, the units dehumidify the space to 50 RH, supply free pool water heating to maintain 28.8 C (84 F) water temperatures and cool or heat the space to 27.7 C (82 F).
Although Splash Universe paid more money for its equipment up front, dehumidification and recirculation is saving each facility $105,000 US or more annually, according to Paul Joliat, PE, LEED AP, president, Michigan Air Products, a Troy, Mich.-based manufacturer's representative. Over the 20-year lifecycle of the equipment, Splash Universe will save an estimated $2 million or more, according to Joliat.
Besides operational savings, mechanical dehumidification also has a positive effect on turnstile sales. Rather than subjecting patrons to the rainforest conditions of many indoor waterparks, the Splash Universe facilities provide a comfortable environment.
"Indoor air quality can't be seen, but it's definitely felt by patrons," says chief maintenance engineer, Dennis Rainsberger. "Poor indoor air quality has short-term effects when eyes sting from excessive chloramines and long-term effects where asthmatic and other respiratory conditions occur. Many waterpark operators wrongly think indoor air quality doesn't affect their businesses. If the patrons don't have a comfortable experience, they won't come back, regardless of how cosmetically nice the facility looks."
Improving IAQ by eliminating chloramines
Another IAQ advantage Splash Universe employs is gas-phase air purification, marking the first time the technology has been used in a North American indoor waterpark. Chloramines, which are chlorine molecules that attach to human waste products such as urine and ammonia, are removed by gas-phase filtration added as a factory option to the mechanical dehumidifiers.
Chloramines tend to linger in all types of indoor pool environments. They are proven respiratory irritants for patrons and pose long-term dangers for facility employees. The chloramines issue came to the national forefront in 2007 when the U.S. National Swimming Championships in Indianapolis, Ind., were disrupted after swimmers experienced breathing difficulties directly related to excessive chloramines, according to news provider United Press International (UPI).
Conventional air filtration media, regardless of the heating, venting and air conditioning (HVAC) method used, are incapable of trapping gaseous contaminants. Instead, gas-phase filtration uses an environmentally friendly granulated coconut shell-based carbon media, through which the return air stream passes. The carbon media absorbs chloramines produced inside the pool area as well as vehicle emissions, ground-level ozone and other gaseous contaminants introduced by outdoor air requirements. The result is a free-breathing atmosphere void of chloramine buildup.
"Other waterparks typically have a pungent odour," explained Rainsberger, a former HVAC industry veteran. "However, I think we have successfully created a fresh air environment with gas-phase air purification that is noticeable as soon as you enter the pool area."