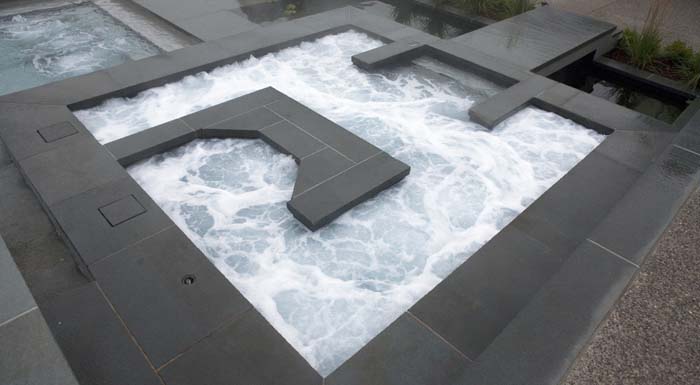 By Barry Justus
Contractors have a variety of options when it comes to designing and installing spas—from custom-built stainless steel, copper and concrete (cast-in-place and shotcrete) units to portable models. Generally, budget, deadlines and skill set influence design decisions for custom spas, while off-the-shelf units typically cost less and take little time to install. This article will focus on designing and installing concrete spas.
Concrete offers builders flexibility
Custom concrete spas offer an enormous amount of design flexibility. Their size, shape and design are limited only by the site architect's imagination. From single-person plunge spas and large commercial party spas to highly sophisticated perimeter overflow basins with complex hydraulics and exotic interior finishes, the main design parameter for every project should be balancing esthetics with practicality.
Location, location, location
The spa's location is the obvious place to start the design. It can be located in, adjacent to or separate from the pool. In all cases, however, it is possible to configure the spas' plumbing and heating to share the pool water or be built as a separate entity. Another option is to install a rill or runnel (a functional constructed channel that carries a water supply from a water source some distance away), which would link the spa to the pool. This feature allows them to share filtered water, while creating an additional architectural design element on the property.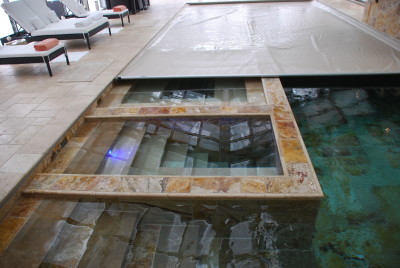 In northern climates, the spa is often located a few steps from the home, if winter use is intended. This may involve installing heating coils in the deck and a pathway to allow unlimited access to the spa. The spa's fill lines should be located below the frost line and protected from freezing in the spa itself.
Care must also be taken to avoid placing an elevated spa in a position that blocks site lines into the pool. It is common practice to place a raised spa at the entrance to a long pool; however, this can block the view of children swimming in the pool from the deck. The advent of 3-D design software has eliminated many potential pitfalls with regards to line of site and safety in the aquatic environment.
While not a common practice, positioning the spa inside the main body of the pool has some advantages. Not only is it less expensive to construct compared to a stand-alone or poolside spa, it becomes possible to cover both bodies of water with a single automated cover, which saves money and energy.