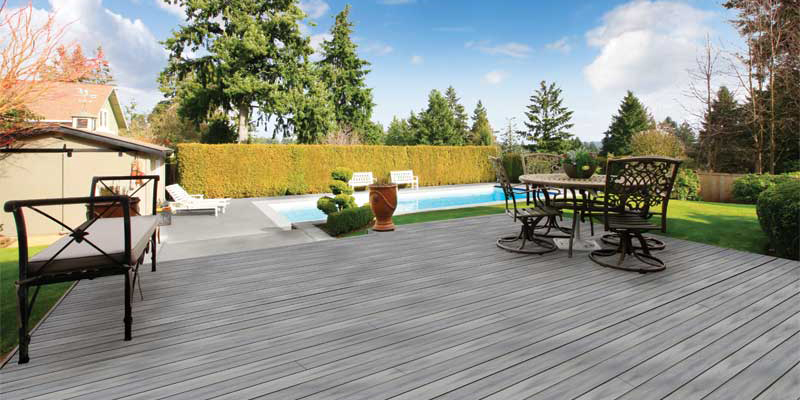 When it comes to owning a pool or hot tub, as much as spending time in the water, homeowner enjoyment comes from relaxing on deck after a swim or soak. A pool and/or hot tub surround is a key part of the backyard experience, so choosing the right decking materials goes a long way toward boosting the clients' satisfaction.
Next to concrete, wood decking had been the default material for building pool and hot tub surrounds and steps for many years. Recent advancements in materials science have seen more pool and hot tub builders/installers, as well as deck builders, using wood alternative decking products. One of the fastest growing among these is wood-plastic composites. Market researchers at Principia predict within the next few years composites and cellular PVC will represent 40 per cent of the total value of decking sold. As they explain, "the innovative products provide superior weathering properties, highly attractive esthetics, and low maintenance."
Composite decking is beneficial for pool and hot tub applications, where its advanced features can enhance the outdoor living experience in several ways, including:
Durability in wet environments;
Comfort and safety;
Beauty; and
Ease of maintenance.
Durability in wet environments
After investing thousands of dollars in a pool or hot tub, clients want assurance that their new amenities will last for years.
The high-moisture environment of pool and hot tub surrounds can be a challenge for decking. In addition to the damaging effects of sun and weather, surrounds face frequent wetting from playful splashing, people sitting on the deck in wet swimsuits, and water dripping off bathers as they climb out of the pool or hot tub.
Since the lifespan of a treated-wood deck is approximately 10 to 20 years, depending on the wood species, treatment, and the exposure, building professionals are increasingly specifying alternatives like composite decking to extend the life of their projects.
The engineering process of composites brings out the best qualities in the raw materials. Wood fibres contribute to strength and stiffness, while polyethylene plastics provide durability and moisture resistance. Although composites are generally more resistant to moisture than wood decking, composite brands vary greatly in their performance.
Composite products that have fully encapsulated wood fibres ensure quality, as this manufacturing process protects each board to the core. These products can be used in applications on or in the ground, as well as underwater without voiding the warranty. In cases where decay resistance is required, the National Building Code (NBC) of Canada permits the use of these composite materials, which makes them well suited for the high-moisture environments of pools and hot tubs.
In fact, many marinas across Canada, including British Columbia's Kelowna Yacht Club, the Port of Orillia on Ontario's Trent Severn Waterway, and Quebec's Saint-Félicien Marina, have installed high-performance composites where moisture conditions are much higher than the typical backyard pool or hot tub.