Pre-built built-in units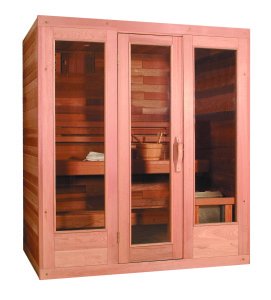 If the first two options do not fit the plan, a third option is the pre-built built-in sauna. This is an internal assembly custom-designed sauna that can be used in tight spaces. Sauna manufacturers offer this option to clients who want the illusion of an on-site built-in sauna. This option is quickly becoming popular with today's sauna enthusiasts as many consumers want the hand-detailed workmanship offered by the sauna manufacturer, with a quick-and-easy on-site assembly. For most consumers, this is an attractive option as the sauna is pre-built at the manufacturing facility with the customer's design input.
Further, with the customer's design in mind, sauna manufacturers are capable of custom building either an infrared, Finnish, or combination sauna to suit their demands, while also carrying the Canadian Standards Association (CSA) and UL Standards approval.
Each of these options is readily available to the consumer, making any sauna purchase a worry-free and rewarding investment. Ultimately, no space is too small, too big, or too oddly shaped for the perfect sauna.
POPULAR SAUNA UPGRADE FEATURES
Along with all of the custom options discussed above, there are additional upgrades to be considered when purchasing a sauna. One of the most popular is the inclusion of an MP3, CD, or DVD player inside the sauna. Relaxing music or playing a movie can heighten the sauna experience for many people.
Another common trend is the inclusion of coloured lighting. This not only increases the level of therapeutic benefits the sauna provides, but also gives the sauna a unique glow. Different coloured lights are available for both the sauna's interior and exterior.
The sauna's door also represents another opportunity for customization and unique design as they can be made of wood, glass, or a combination of the two. They can also include a personal touch, for example, many commercial saunas feature a name or logo, while residential saunas sometimes have a family name, crest, or another image of their choice on the sauna door.
All of these customizable upgrades will allow the consumer to own a sauna that is not only functional and beautiful, but a reflection of their individual style.
Available options 
Saunas are generally thought of as square-style rooms. Although often times this may be the case, the sauna's size and shape is also customizable.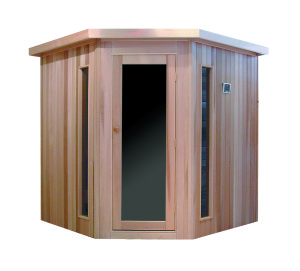 Saunas can be designed to the exact dimensions that a customer requires. For instance, the sauna's height can be tailored to fit under air ducts, or areas with low ceilings. Conversely, they can also be built with higher ceilings. The room dimensions themselves can also be made to suit the customer's needs, ensuring there are no fixed dimensions that limit the customer.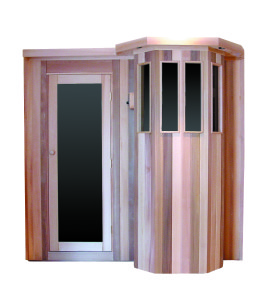 Contemporary saunas are more often built in interesting shapes that combine functionality and esthetics. With bay-window style front wall options, corner styles, and rounded designs becoming more popular, saunas are becoming a work of art. Contemporary saunas have graduated from an eyesore or a 'box' in the corner of a room, to an integrated piece of furniture for any residential or commercial space.
Just as the sauna's exterior shape can be customized, there are multiple options for the interior layout as well. For example, benches can be configured in many different variations in order to accommodate the customer. The most popular is the two-tier bench. Customizations of this popular style include adding leg rests, a third tier, or bench skirts. Bench and door sizing can also be customized to accommodate wheelchair access.
Building materials
Originally, saunas were built out of stones and logs, and although they can still be made from these materials, wood and glass have become the norm. It is generally believed the first wooden saunas were built by the Finns around the fifth century. There are several different types of wood that customers can select from to build their sauna, including cedar, poplar, basswood, hemlock, sitka, spruce, alder, pine, abachi, and redwood. Each type of wood has its own characteristics and presents its own unique benefit to the customer. Hemlock is cost effective, cedar is recognized for its durability and strength, and poplar wood is a great choice for those looking for a hypoallergenic wood with durable qualities.
Location
Saunas do not have to be limited to the indoors. Although indoor saunas are the most popular, outdoor units have also been well-received. Consumers who are looking for a sauna, but are limited for space, may want to consider opting for an outdoor installation. Sauna manufacturers offer kit-style outdoor models, which are easy for consumers to assemble themselves. An outdoor sauna can be assembled and ready for use in very little time, allowing the consumer to sit back, relax, and enjoy the outdoor scenery surrounding them.
Heater and control options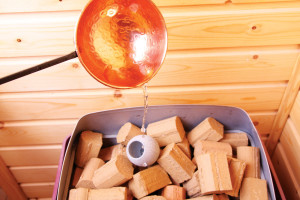 Finnish saunas have three heating stove options: wood, gas, and electric. The most common heating option in contemporary saunas is the electric stove with rocks, which is convenient and easy to operate. However, in many remote areas where electricity is expensive or not readily available, gas or wood-burning stoves are great alternatives. A wood-burning stove requires no electricity and is easy to use by simply adding firewood.
Infrared saunas also have three heating options: ceramic tube, organic carbon fibre, and medical-grade ceramic. Sauna manufacturers offer these different heating methods to allow consumers to choose which option best suits their needs; however, ceramic tube and organic carbon fibre are the most common. These are great choices for those who are on a budget and are looking to add a sauna for health reasons. Consumers who want increased health benefits and a pure detoxification experience are more likely to select the medical-grade ceramic heating option.
Many different controls are also available to the consumer, ranging from simple analog and digital operation, to sophisticated touch screen controls.