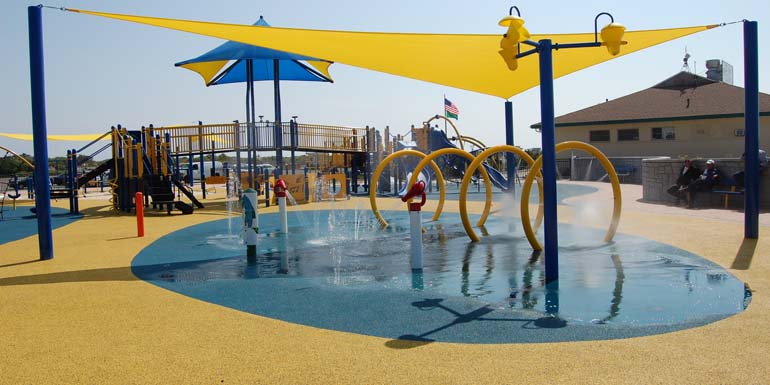 By Cory Forrest
Spray parks exude fun—spray cannons, slides, sneaky soakers and sounds—uniting these elements creates a magical water world, which can bring endless joy to visitors for years to come. These facilities are quickly becoming the desired solution for recreational enhancement in a number of communities.
Before the decision to build a spray park is made, it is imperative to make sure the necessary steps are taken to ensure its success. From building materials to design themes, there is a lot to think about. By following the key steps outlined in this article, a designer can create a safe and successful spray park that will make a lasting impression on the community.
Define the project objectives
While progressing through the stages of the project there will often be times when a critical decision must be made, which can drastically alter the outcome. To make these decisions easier and to ensure everyone involved in the various stages of the project understand the overall goal, it is important to define the key objectives and criteria for success upfront.
Key questions to ask, include:
What is more important to the project, play value or esthetic appeal?
Although both are essential, decisions will arise where one may need to be sacrificed for the other. Keep in mind, a great looking park will enhance the surrounding environment, but a great looking park, which also offers a variety of interactive play features promoting creativity and imagination, will keep visitors coming back and ensure the park's longevity.
   2. Who is the target market for the facility?
If the target market spans from toddlers to 'tweens,' decisions regarding features and layout will be much different than designing a facility appealing primarily to the seven-to 12-year-old market. In this case, it is important to keep in mind adults may design the facilities and select the features, but it is children who make it come alive. To create a successful spray park, a designer must step back throughout the entire project and be sure to look at the features from the perspective of its target market.