Establishing a budget
When creating the budget for a spray park, many designers/builders make the mistake of focusing on the features as the primary expense. The features provide the visual impact and play value, however, most of a project's cost is associated with a lot of other things that go into designing, building and operating the park (e.g. project management, engineering and various approvals). Too often, initial budgets do not adequately anticipate additional costs and as the project progresses, cuts are made to the features or site amenities in order to bring the project back in line. Unfortunately, these elements are what end users value the most; they should be maximized for the long-term success of the facility.
Some key considerations to include in your budget:
Project management: someone will need to co-ordinate the different parties and ensure the installation goes smoothly;
Engineering and design: design drawings will require local engineering approvals;
Electrical: qualified electricians are needed for installation;
Approvals: health authority and community approvals may be required and can incur time and expense to the project;
Installation: site preparation and any unique requirement (e.g. bringing the water source into the location if it is not readily available) should be considered;
Surfacing options;
Startup: the system will need to be tested and operated before opening. If a water treatment system is involved, in-field training and commissioning will also be needed; and
Operational costs: ongoing water, electrical power, maintenance, chemicals and repairs for general wear and tear should be considered.
Developing a theme and conceptual design
Custom themes are what usually set spray park designers apart from one another. While themes may come with a price tag, it can also do wonders in adding flair and continuity to an environment and make it more memorable. It can be as simple as adding a corporate logo, recognizing key financial contributors or as exciting as designing an entire facility around a key theme with creatures, characters, colours and sounds to support the vision.
When planning the spray park's layout and selecting its features, refer back to the project's objectives. What demographic is the facility being targeted towards? Understanding how the water sprays from the features and how kids will interact with the water is critical. It is much more than selecting from a catalogue of features, which may appeal to the esthetic design.
If only one age range is being targeted, the job is much simpler. However, it is far more likely the spray park's design will be geared to a range of children, from toddlers to 12 year olds and possibly older. In this scenario, it is ideal for the spray park to be segregated into three separate areas, each with an activator to allow users to operate each given area.
Toddler play area (Age: one to three)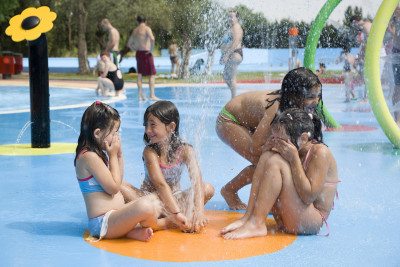 When designed with a toddler's needs at the forefront this water play area represents a world of discovery. An abundance of ground sprays with softer sprays and bubblers should define this area. Any upright features should be sized appropriately; quick bursts of water or surprise sprays should be avoided. Toddlers like predictable water and continuous spray displays.
Family play area (Age: four to seven)
The family play area is generally the focal point of the spray park. It is also where the majority of the larger features and themes should be incorporated. A large central structure, such as a slide, will become the landmark attraction luring children and families into play. Musical features, character themes and spray tunnels are typically found in this area. Components should encourage social interaction and be designed for both independent and group play.
High-action play areas (Age: seven and up)
A large mega-soaker dumping bucket or similar structure is a great focal point for this area. Unlike the family play area, cannons and co-operative play elements will dominate this section. Features can be a little further apart, as older kids require more space. Faster actuating ground sprays, more interactive programming (if using a controller) and components requiring cause and effect co-operative play experiences should be considered.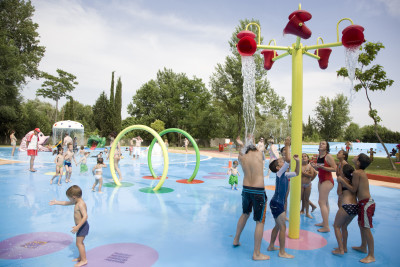 Work with the feature supplier to ensure the design is age appropriate and safety is considered in the layout. Avoid overcrowding the pad with features as it can present safety issues when kids are running through spraying water.
Once the conceptual layout and design have been created, consider engaging the community or key stakeholders in the final decision-making process. All too often the overall design falls short of meeting the kid's expectations and can result in a non-interactive, non-stimulating spray park.
Involving the community or key stakeholders in the component selection process is a great way to bring more end-user ownership to the spray park, as well as to gather unbiased feedback on which features would best suit the facility.