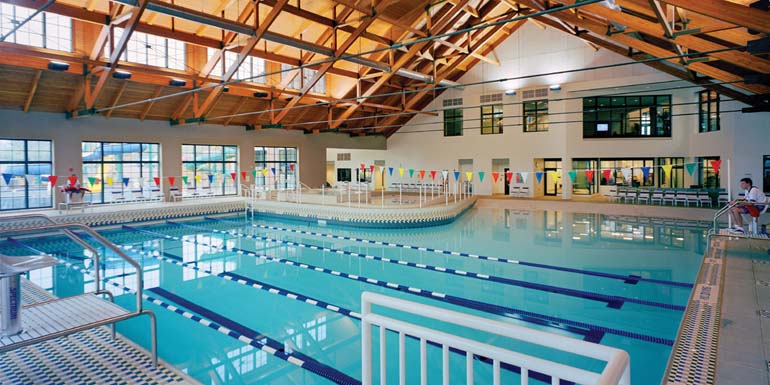 By Christopher Chivetta
Energy-saving initiatives are at the centre of many of the decisions indoor pool owners and operators must make every day. As energy costs continue to rise, manufacturers and suppliers are marketing a wide variety of environmentally friendly products and services. With so many options available, operators can find it difficult to choose an appropriate strategy.
First and foremost, it is important for an operator to understand where his or her energy dollars are spent when it comes to indoor pool maintenance. According to a previous U.S. Department of Energy program called 'Reduce Swimming Pool Energy Costs' (RSPEC), indoor pools can be one of the largest energy users per square foot. RSPEC's analysis, while several years old, still correctly identifies the major energy uses of indoor pools. Evaporation is, by far, the largest energy user, accounting for 70 per cent of the total energy load. This energy use derives primarily from the tremendous amount of heat, or energy, used during the phase when the pool water changes from a liquid to a vapour. Ventilation systems, which maintain comfortable indoor conditions for pool patrons, are the second largest energy drain, accounting for approximately 27 per cent of energy use. The remaining three per cent originates from pool circulation systems, pumps, filtration needs and auxiliary devices.
Evaporation
To control energy consumption in the evaporation load, it is necessary to understand the important relationship between water and air temperatures. The National Swimming Pool Foundation (NSPF) recommends pool water temperature for active swimming should range from 78 to 80 F (25 to 27 C). For general use, a water temperature ranging from 82 to 84 F (28 to 29 C) is ideal. To maintain a comfortable participant environment while keeping the evaporation rate low, the air temperature of the facility should be two to five degrees warmer than the water temperature. In addition, the relative humidity of the space should be between 40 and 60 per cent.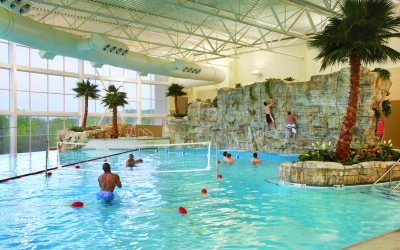 When designing a new facility or replacing an existing heating, ventilation or dehumidification system, it is important to determine the appropriate water and air temperature relationships, as well as the relative humidity level, to achieve ideal evaporation. A system designed for a lower water temperature will not be able to maintain adequate indoor conditions, causing it to be more costly to operate and leading to potentially poor indoor air quality (IAQ). For each two-degree rise in water temperature, the heating, ventilating and air conditioning (HVAC) system's required capacity increases seven per cent. Similarly, a mere 10 per cent change in the relative humidity increases system demand by more than 30 per cent. For these reasons, a system designed to meet specific pool water temperature needs will operate more efficiently, while providing a safe, healthy indoor pool environment.
Another way to reduce evaporation rates is by installing a pool cover. Covers provide a barrier to reduce evaporation from the pool surface, reducing heat loss within the pool. However, while covers reduce the evaporation rate from the pool surface, they may not reduce the evaporation rate from the entire pool space. It is important to understand evaporation occurs regardless of water depth. Puddles of water that accumulate on the pool deck, play surfaces, starting blocks, diving boards or on top of the pool cover continue to evaporate and cause energy loss. When using a pool cover, operators must be careful not to submerge it or allow water to collect on top of it, as even this standing water can dramatically reduce the cover's effectiveness.
The evaporation load is directly proportional to the amount of energy consumed. For every pound of water evaporated, the facility loses energy, a loss that adds directly to operating costs. When pool water and air temperature are lowered, evaporation load lowers. Raising the relative humidity of the space to 60 per cent also reduces the evaporation load. The use of a pool cover reduces the base evaporation rate from the pool. By maintaining temperatures, controlling the relative humidity and using a pool cover, an operator can achieve an optimized evaporation energy load.