Using hand signals in special-use facilities
Special category pools are facilities with only one or two lifeguards on duty; therefore, they must involve other facility staff should an emergency occur. These staff members usually have visual contact with the pool and hand signals by the lifeguard can quickly alert their response as the lifeguard attends to the emergency. Therefore, the staff should be trained on how to react and assist in any emergency based on these hand signals as well.
One lifeguard is never recommended to work alone, but this does occur in private clubs and hotel pools. Pre-determined signals to alert the need for staff response must be defined by each facility. In cases where only one lifeguard is on duty, facility staff is also used to provide surveillance while the lifeguard takes a quick break.
Safety awareness at therapy pools is also gaining attention, especially when connected to a medical facility/hospital. These pools are usually small and shallow. Currently, many of these aquatic therapy pools are not patrolled by a lifeguard. As such, this has identified two specific problems:
The staff assigned to provide aquatic therapy and rehabilitation in an unguarded pool may not have aquatic training or even the ability to swim; and
Expecting therapists to be lifeguard certified.
It is difficult to convince medical department leaders to understand a therapist cannot also be the lifeguard and, in a worst case scenario, it may be the therapist that becomes ill and needs assistance.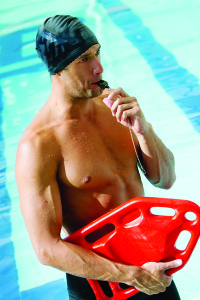 Therapy pools and change rooms in medical facilities are traditionally equipped with emergency call buttons. Those who provide aquatic therapy must know who will respond should these call buttons be activated and then correctly involve those responders to any one of a number of incidents. Further, the size of the therapy pool also brings into question the need for lifeguard certification as most of these pools are less than 1.5 m (5 ft) deep and too small to actually swim in. Lifeguard certification from a national organization is important and the minimum should require the therapist in charge of scheduling to maintain lifeguard certification and have emergency response training.
Another option for smaller aquatic therapy pools is having the Canadian Aquatic Rehab Institute (CARI) and Aquatic Therapy and Rehabilitation Institute (ATRI) in the U.S.,  develop a safety course specifically for aquatic therapists with regards to risk management and safety training. Everyone working in these therapy pools should be required to complete the training in addition to maintaining current cardiopulmonary resuscitation (CPR) and AED certification.
In these facilities, emergency hand signals can also be used to clearly suggest the suspected sudden illness in a patron or patient. These can be clearly understood by other lifeguards, water watchers, or receptionists who are monitoring the pool from an outside area. In fact, a facility can develop its own signals for communication purposes with staff and patrons; however, they must be clearly understood and not conflict with hand signals established by professional safety organizations.
Add not subtract
It is important to keep in mind proper lifeguard training and staffing should never be replaced with emergency hand signals. They are simply an adjunct to add to the toolbox of an Emergency Action Plan. Emergency hand signals can easily be incorporated into current training by demonstrating the sign that relates to the specific physiological condition, followed by how to quickly incorporate them into established, active protocol according to local agencies overseeing the operation of aquatic facilities.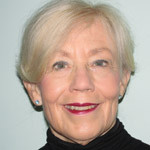 Mary Wykle, PhD, operates MW Aquatics in Burke, Va., which provides consulting, training, and program development for various aquatic and health needs. She is also an adjunct professor of physical education at Northern Virginia Community College and presents for many organizations. In addition to leading the United States Army (USA) study in developing Aquatic Programs for Wounded Warriors, along with developing the Aquatic Physical Training Program for the United States Marine Corps (USMC), Wykle serves on the Aquatic Exercise Association (AEA) research board. Some of her many accolades include the International Swimming Hall of Fame (ISHOF) Adapted Aquatics Award, the AEA Lifetime Achievement Award, and the Aquatic Therapy & Rehab Institute (ATRI) Aquatic Therapist of the Year. She can be reached via e-mail at mwykle@aol.com.