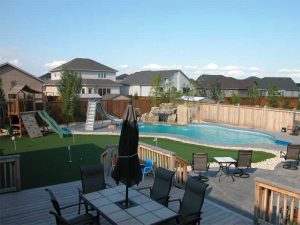 By Phil Bach
When it comes to pool renovation, consumers generally call a professional when their pool looks old, their liner is leaking, or when they are at a different stage in life and want the pool updated to meet their new needs.
That said, pool renovations should go beyond the esthetics or basic functionality of the pool.
Renovation needs to include updating the pump room equipment, too. With the many new advances in energy-efficient pool pumps, filters, and automation, updating the pump room equipment might even provide more customer satisfaction than cosmetic changes. More importantly, today's pool equipment is not only more energy efficient, but makes owning and maintaining a pool much simpler.
Changing lifestyles, changing water circulation
One of the most common reasons for renovating a pool is because the homeowner's lifestyle has changed. Interestingly enough, updating a pool because it will be used differently will also likely change how the water circulates. As a result, this immediately puts the renovation of the pump room at the forefront of the conversation.
In fact, Kathi Belcourt, manager at Aqua-Tech Pools in Winnipeg, says this is a frequent conversation she has with homeowners looking to renovate their pools.
"We often have clients call us because they no longer have school-age children using their pool, so it has changed from being used for cannonball parties to cocktail parties," says Belcourt. "However, once there are fewer swimmers in the pool, the water actually does not circulate as well. In fact, since swimmers actually move the water very effectively and keep it circulating, having no swimmers in the water decreases circulation and inevitably increases algae growth."
Belcourt and her team like to take the time to explain to their customers that once the pool water is not moving and circulating as it did when the pool was filled daily with children, the filter does not do its job as well and the chemicals in the pool need to work harder to combat things like algae.
"Lack of water circulation leads to dead spots in the pool, which leads to surface algae on the pool as the water is not getting filtered, nor is it being properly sanitized and heated; it is just using up the pool's bank account of chlorine," says Belcourt.
Variable-speed pumps (VSPs) make maintenance easier
Once the pool owner gets a better understanding of how important it is to continuously circulate and move water through the filter, they begin to understand why maintenance is going to get harder if they no longer have kids constantly swimming in the pool.
"This is the eye-opening 'a-ha' moment that makes it easy to start the conversation about the need to upgrade to one or more VSPs and how the pump room will work more efficiently so pool maintenance is easier and more cost-effective," says Belcourt.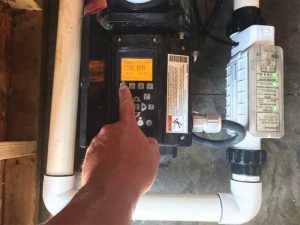 It is important that pool professionals be able to discuss how a VSP can also make pool maintenance easier than a single-speed pump. Historically, pumps with induction motors, which operate at only one or two speeds, tend to draw more energy than is required to circulate the water. These units must constantly operate at high speed to perform demanding jobs, such as running a waterfall or pool cleaner. However, it takes far less power to simply keep the pool water filtered—a difference single-speed pumps cannot address.
In terms of upkeep, keeping pool water effectively filtered keeps maintenance to a minimum. By having the pool pump operate at slower speeds but run all the time, the water is constantly circulating, thus allowing the filter to do its job correctly. This also helps the chemicals in the water to work more effectively, so the pool water stays clean with very little effort on behalf of the pool owner.