Method of installation
Typically, a removable pool fence system is installed a minimum of 0.6 to 1.22 m (2 to 4 ft) away from the pool water. The reasons for this are:
If a child were to climb the fence and get over it, they would fall on the pool deck and not into the pool.
Space is required to walk around the pool on the inside of the fencing.
Should bathers need to get out of the pool while swimming, the fencing cannot be too close to the edge.
The fence should not prevent the homeowner from sitting poolside, should they want to relax on the pool deck and dangle their feet in the water.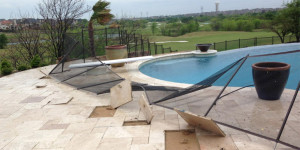 It should also be noted, all lounge chairs, tables, and other accessories should be positioned on the outside of the fencing system. Installers must consider 'non-pool' time and how easily a child can leave the table or lounger and slip into the pool unnoticed.
Another factor to consider is the pool deck construction, e.g. concrete, flagstone, pavers, dirt, grass, etc., as proper installation methods need to be considered for each of these materials. Given the extreme tension of the fencing, where possible, concrete or a similar solid surface is recommended. When installing in pavers, long-pipe inserts must be used as the pavers will not withstand the tension of the fence. Long pipes should also be used when installing the fencing system into grass or dirt.
Esthetics
In some cases, esthetics and safety do not mix together well. Where possible, the layout of the fencing needs to flow with the contour of the pool to provide a professional appearance. When offering advice, talk to the client and find out how they use their backyard, and then consider all of the aspects mentioned herein for a proper fence installation.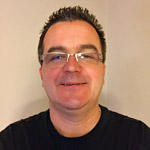 Robert Bortoluzzi is the owner and exclusive authorized dealer in Ontario for Guardian Pool Fence Systems Inc. He has 20 years' experience installing removable pool fence systems and is a successful entrepreneur. Bortoluzzi has completed more than 1000 installations and installs fencing for many local pool contractors. He can be reached via e-mail at robert@safetypoolfence.ca.