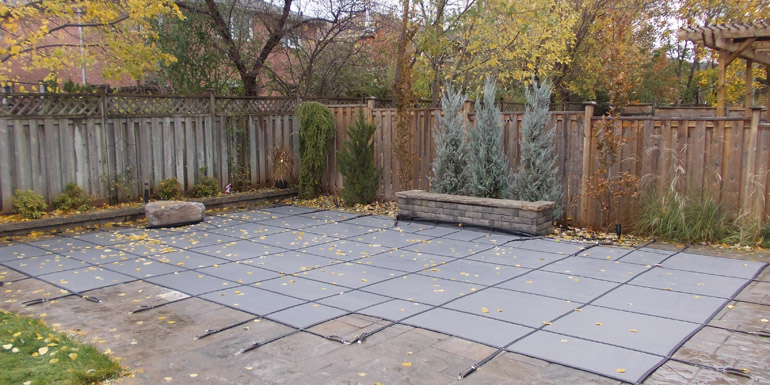 By Leigh Hinsperger
Today's backyard oasis is quite different than it was 20 years ago. Now they are designed with every detail in mind, e.g. beautiful walls and gardens, spas, vanishing edges, grottos, and even bridges. In fact, with the advances in pool design and the growth of the pool industry, the sky is the limit, and there is no end in sight. Any backyard, big or small, can now be transformed into a unique, private paradise.
In Canada, however, most swimming pools must be closed for nearly half the year to protect them from the harsh elements (i.e. rain, snow, sleet, wind, cold, dirt, debris, etc.). Therefore, almost every swimming pool built in Canada requires a cover of some sort. Over the past 10 years, safety covers have soared in popularity thanks to reduced costs, ease of use, increased availability, and the accurate customization provided by many of the leading manufacturers.
The evolution of safety covers
The most common winter cover is still the standard tarp and water bag system. Although they are effective, these covers, which are typically oversized rectangle or square tarps with very little customization, appear baggy and sloppy. They can easily fall into the pool or be blown away. For homeowners who want the appearance of their backyard to look stellar year-round, these pool covers are simply not good enough anymore.
In order to create a custom, streamlined look in the backyard, cover manufacturers need more detailed information than what was required in the past—simple length and width measurements are no longer sufficient.
Safety cover manufacturers view this process as a more intricate design. Like anything custom-made or tailored, it is all in the details; therefore, manufacturers encourage and welcome all pictures, measurements, and opinions. It is better to have too much information than not enough.
Further, manufacturers should not be asked to make assumptions on the client's behalf as this is how mistakes are made. It has to be assumed the person designing the safety cover has never seen the pool or backyard before, nor do they have the ability to run back and forth to answer what may appear to be mundane questions.
In an effort to limit mistakes, safety cover designers are trained to ask what may seem like 'foolish' questions, and/or request pictures to aid in the design.
Swimming pool safety cover manufacturing is much more intricate and detailed then just cutting and sewing fabrics together. Almost every cover has to be uniquely designed, cut, assembled, finished, inspected, and packed.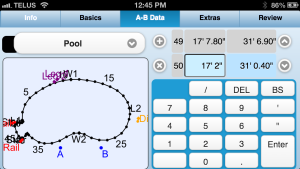 When it comes to ordering a safety cover, it can be guaranteed the cover will fit only as well as the measurements that were provided. The more measurements, diagrams, and pictures the cover designer has at their disposal, the tighter it will fit on the pool and its obstructions (e.g. dive rock, spill-over spa, etc.).
Pools can be measured in one of two ways—a simple lineal measurement with cross dimensions, or a more complex 'A/B' triangulation measurement, which allows installers to plot the shape of the pool, its steps, and/or any other obstructions or appendages, point-by-point via a computer-aided design (CAD) program.
Manufacturers will try to use every bit of information they receive to ensure the safety cover meets all requirements and expectations of the installer and pool owner. The goal is to make sure it does not need to be returned for any alterations.