By Michael Shebek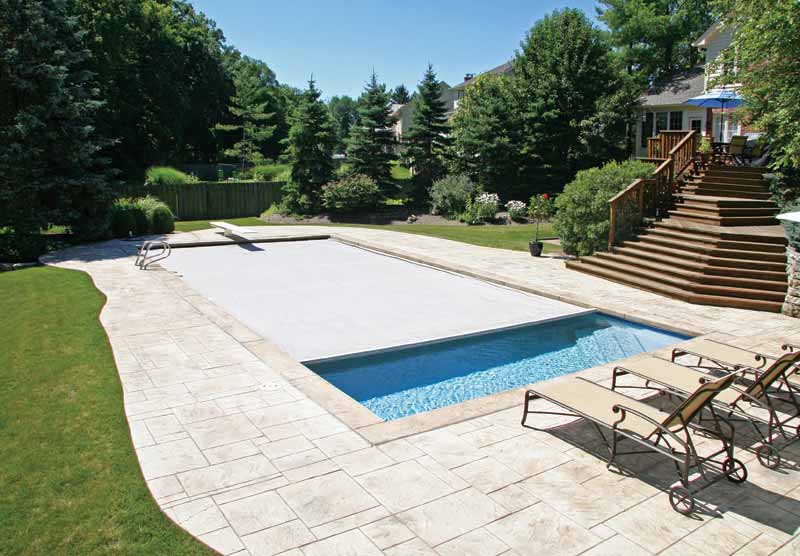 There was once a time when automatic pool covers were reserved for high-end pools—ones with vanishing edges that overlook oceans and lakes. However, in recent years, there has been a shift.
These days, automatic pool covers are being installed on everyday pools, especially vinyl-lined models. This emerging trend is facilitated by new automatic cover systems, which are being created specifically for package pools. Savvy consumers see automatic covers on TV and the Internet and ask pool professionals to provide this type of cover because of the added convenience and safety they provide.
The automatic pool cover is part of the wave of 'automation' in today's homes. Indeed, consumers are looking for convenience and control. From home security systems and outdoor lighting to in-pool robotic cleaning and chemical controllers, consumers want push-button convenience—and this is exactly what automatic covers provide. These devices allow homeowners to open and close their pool with the push of a button, while still ensuring their pool is safe.
Luckily for builders, automatic covers have evolved to meet consumer demand and are now designed for fast, convenient, and reliable installation, specifically for pools with vinyl liners. Just as vinyl-lined package pools were created to provide a budget-friendly option to those constructed of concrete, so, too, are automatic covers now designed to integrate perfectly with package pools. Understanding the consumer demand for push-button convenience helps builders increase profits on every vinyl-lined installation.
Allan Horwood, owner of Pool Patrol in British Columbia, says automatic covers have become a significant aspect of his business—but this was hardly the case 20 years ago.
"Back then, trying to sell an automatic pool cover to our middle class customers was a tough sell," says Horwood. "These days, the attitude is very different. On average, pools we build today can cost $45,000, and automatic covers add another 30 per cent or $15,000 to a project."
Despite the additional cost, consumers understand automatic pool covers are the best way to finish off a pool.
"It's like when you redesign your kitchen," Horwood explains. "If you spend $60,000 on the renovation, you aren't going to want plywood countertops; you spend the extra money for granite."