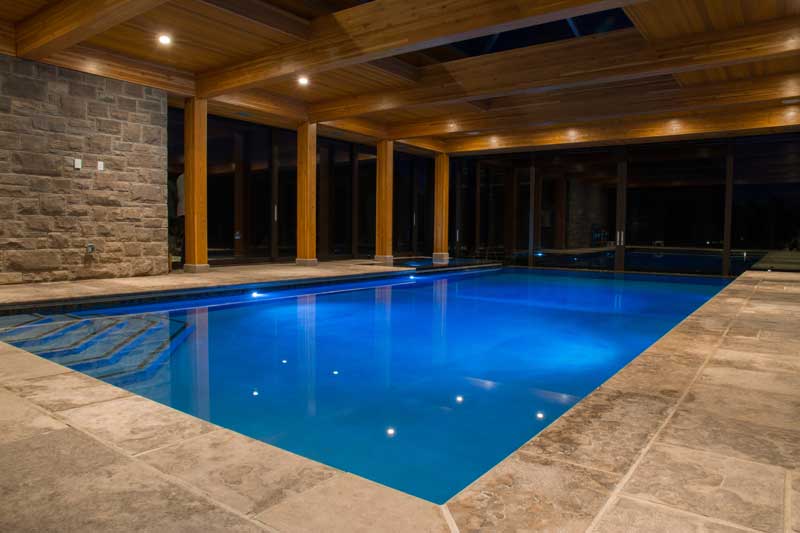 Located along Ottawa's Rideau Canal, this indoor pool was an integral design feature of a newly constructed residence. As outdoor pools typically offer a shorter season, the homeowners opted for an indoor pool that would allow them year-round enjoyment. Therefore, the task at hand was to incorporate the openness of an outdoor pool into the conveniences of an indoor design.
To accomplish this, Roger Willis Pools & Landscapes in Ottawa, Ont., along with the home's designer, Malcolm Wildeboer, an architect with Wildeboer & Associates, took a unique approach in creating the 5.5- x 11.1-m (18- x 36.5-ft) custom concrete pool and its surrounding structure, which incorporates large floor-to-ceiling glass doors that open on all sides, wall-to-wall, to create an open concept between the pool area and exterior landscaped patios. By creating this openness, the feeling of being outdoors is always present. To further extend this transition, glass skylights were installed above the pool, between large laminated wood beams, which support the building.
The pool's design, which incorporates a vanishing edge, furthers the illusion of the pool seamlessly merging with the adjacent body of water. A sleek perimeter-overflow hot tub, lined with thousands of 51- x 51-mm (2- x 2-in) iridescent glass tiles, complements the pool.
The same tile is used along the pool's waterline, vanishing edge, and step markers. The deck and perimeter pool coping are finished with large limestone slabs to co-ordinate with other interior/exterior features.
Sustainability was also a factor in the design and installation of this project; therefore, for energy efficiency, the pool shell was insulated and an equipment such as variable-speed pumps (VSPs) with built-in timers, an automation system, and an automatic cover were installed. Two high velocity swim jets were also installed to permit stationary swimming and aquatic exercise.
Fluid project management was essential by DC Snelling Ltd., of Prescott, Ont., the builder of the home, as the pool was not only an integral part of the design, but also was built in tandem with the home.
— Jason Cramp