By Terry Arko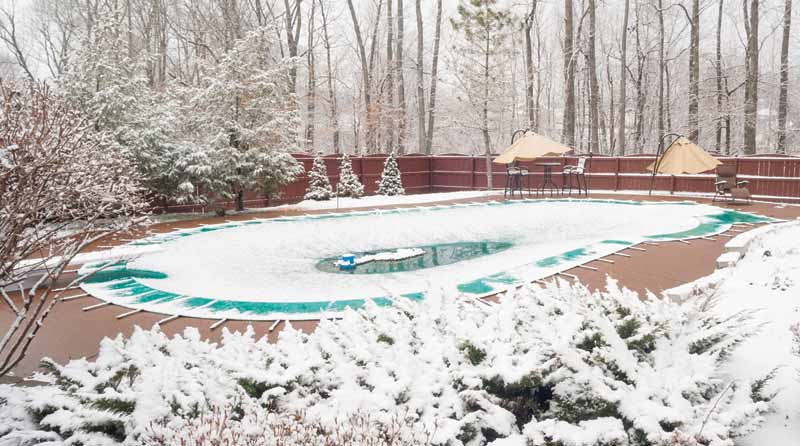 As the swimming season begins to wind down, it is once again time for service professionals to get pools ready for closing. Depending on the region and climate, winterizing a pool can vary between a 'hard close' and 'soft close.' Whether one is shutting down and preparing for an extended period of deep freeze, or just reducing filter runs and covering the pool, the following are some tips on methods and products, which will allow service techs to perform these tasks successfully.
A hard close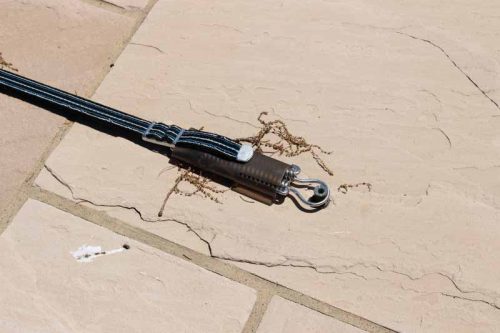 The first step is getting the water ready not only for the winter, but also the pool's eventual opening the following spring. Yes, service techs must always think ahead. How the water is prepared at closing will play a significant role in its quality when the pool is opened. Therefore, pool professionals should perform the following recommended tests before closing: metals, all water balance values (i.e. pH, total alkalinity, calcium hardness, and total dissolved solids [TDS]), and phosphate levels.
In areas where metals are a problem, service techs should add an ethylenediaminetetraacetic acid (EDTA)-based sequestering product first. A few hours after administering, the water balance can be adjusted to the ideal ranges. The best scenario is to adjust the water balance using the Langelier Saturation Index (LSI).
One precaution, however, is to never add sodium carbonate (soda ash) or sodium bicarbonate (baking soda) on the same day as calcium chloride (calcium increaser). Doing so will cause immediate formation of calcium carbonate scale on the pool surface. Once the water is properly balanced, chlorine can be added. Shocking the pool with at least 20 parts per million (ppm) of liquid chlorine is recommended, as this will not contribute any additional calcium mineral or cyanuric acid (CYA).
After several hours, if desired, a clarifier and enzyme product can be added to the pool. A good polyquaternary algaecide should also be administered. If a copper algaecide is used, make sure it is a low percentage copper sulfate pentahydrate complex, which is usually guaranteed against staining under normal pool balance conditions. If staining is a concern, a quaternary algaecide should be used.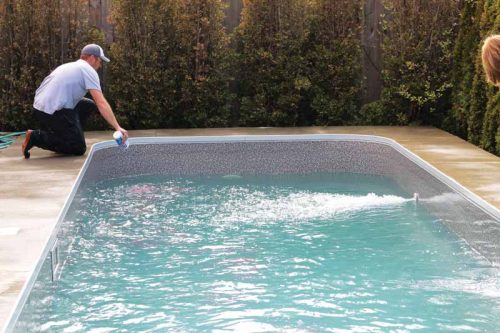 The pool water should be allowed to circulate for several hours after adding the algaecide. Following this, if a CYA stabilizer is needed, it can be added at this point. Normal levels of CYA stabilizer are between 30 and 50 ppm. For winterizing purposes, these levels may be run lower as the pool will be covered, and the water temperature will be low. Once the pool is opened in the spring, additional CYA stabilizer can be added at that time.
High phosphates can lead to water quality issues when it starts to warm up in the spring. Therefore, service techs should be proactive and lower the phosphate levels to at least 500 parts per billion (ppb) or lower before closing the pool. The use of a good phosphate remover will lower the levels of phosphate in the water to ensure better results at spring opening. This is the final step in preparing the water for its winter hibernation.
After treating the pool, the water level must be drained below the skimmer. The following are some suggested water levels for different pool types:
Vinyl liner: 25 mm (1 in.) below the skimmer opening (lower in areas where heavy snowfall or rain is experienced);
Plaster finish with solid material cover: 25 to 152 mm (1 to 6 in.) below the skimmer opening or tile line (whichever is lower);
Painted or natural finish with solid material cover: 152 mm (6 in.) below the skimmer opening;
No cover or mesh cover: 457 to 610 mm (18 to 24 in.) below the skimmer opening; or
Automatic cover: no lower than the bottom of the skimmer opening.
Here, the main concern is to ensure water does not re-enter the skimmer as it will freeze and cause damage to the skimmer well and plumbing. There are skimmer devices that can be added if the plumbing lines are treated with pool antifreeze. These devices can protect the skimmer from freezing should water re-enter. Partial or full draining of a pool at closing could lead to damage in high water table areas due to hydrostatic pressure upon the pool.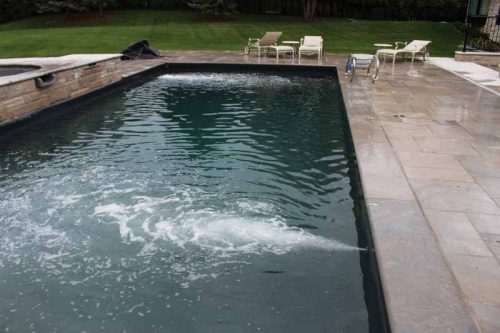 If the pool is to be drained completely for the winter, service techs should ensure there is a functioning—manual or automatic—hydrostatic relief valve installed on the pool. It is designed to allow some groundwater to seep back into the vessel and relieve the pressure. If the pool is not equipped with a hydrostatic relief valve, it is not advised to drain all of the water upon closing as groundwater pressure could cause the pool to shift or pop out of the ground. Completely draining inground vinyl-lined pools is not recommended. Doing so can lead to displacement and shrinkage of the liner. Above-ground pools should only be drained below the skimmer and winterizing pillows or floats should be used to prevent damage from contraction and expansion. The sides of an above-ground pool should also be reinforced to prevent them from collapsing.
When draining pool water, service techs should know what the municipality bylaw is. In many areas, pool water must be dechlorinated. One of the best ways to achieve this is to stop chlorinating the water for several days, which would allow the levels to decrease naturally. If that is not possible, the pool can be quickly dechlorinated using sodium thiosulfate. It takes approximately 25 g (0.9 oz) of sodium thiosulfate to remove 1 ppm of chlorine in 10,000 L (2642 gal) of pool water.
Finally, service techs should use an air compressor (or shop vacuum in reverse) to clear all the lines and plumbing of water. Standing water should be removed from the suction lines, such as the skimmer and main drain, as well as the returns and any plumbing leading to the pool equipment (e.g. heaters, automatic cleaners, and water features). The skimmer and both return and vacuum lines should be closed off with expandable rubber winterizing plugs. A non-toxic winterizing antifreeze can be used prior to sealing the pipes.
There are many pool antifreeze products available that can be added into the skimmer above the plugged lines. It takes approximately 3.78 L (1 gal) of pool antifreeze to treat 3 m (10 ft) of 38-mm (1.5-in.) pipe. Service techs should never use automobile antifreeze as it is toxic and will damage some types of plumbing. Also, pouring antifreeze into the pool water is not advised as it will be diluted to the point where it has no effect.