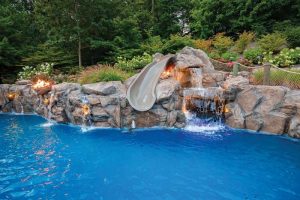 By Zayvian Camacho
Everyone knows slides make pools more fun. Lately, backyard trends have increased consumer expectations beyond traditional slides installed on the pool deck. Instead, clients want pools which not only incorporate slides but also offer multiple water and fire features, as well as colourful lighting, and climbing walls.
Designers want to seamlessly integrate slides with the pool's stone coping, decking, and outdoor living decor. These resort-style pools have everything—beauty, fun, and soothing sounds.
Artificial rock component systems made of cast concrete allow builders and designers to easily integrate slides, grottos, climbing walls, and water features, to increase profits on every job while providing clients with pools that are the envy of their neighbourhoods.
Rockin' slides
Combining cast concrete artificial rocks with slides is now much easier for pool professionals, thanks to new manufacturer offerings. Modular water feature kits—along with fibre reinforced panels—make it easy for builders to create structures around slides with a predetermined final look, and a predictable timeline and labour cost.
Building an artificial rock feature for a slide is easy. The rocks can be used to fill space behind, under, and around its structure. Plus, manufacturers now provide systems to create rock staircases for swimmers to get to the top. Incorporating a grotto or cave into the design, along with misters, fire, and lighting, can add mystery and magic, making the water feature even more exciting. Clients with children often also want long, fun slides like those at the waterpark, which will provide even more potential for rockwork. These rock and slide combinations provide a natural setting around the pool which is esthetically pleasing but also super fun for swimmers.
Artificial rocks are made of concrete and can be attached to steel structures. They are not made of foam. These steel-reinforced rocks are structurally sound but weigh about one-fifth less than real boulders. In fact, they are structurally superior and about half the cost of natural stone. Every artificial rock component is finished and ready for the builder to put the pieces together. The finished product provides a uniform look and ensures the water flows over the features attractively before making its way back into the pool.