By Kevin Post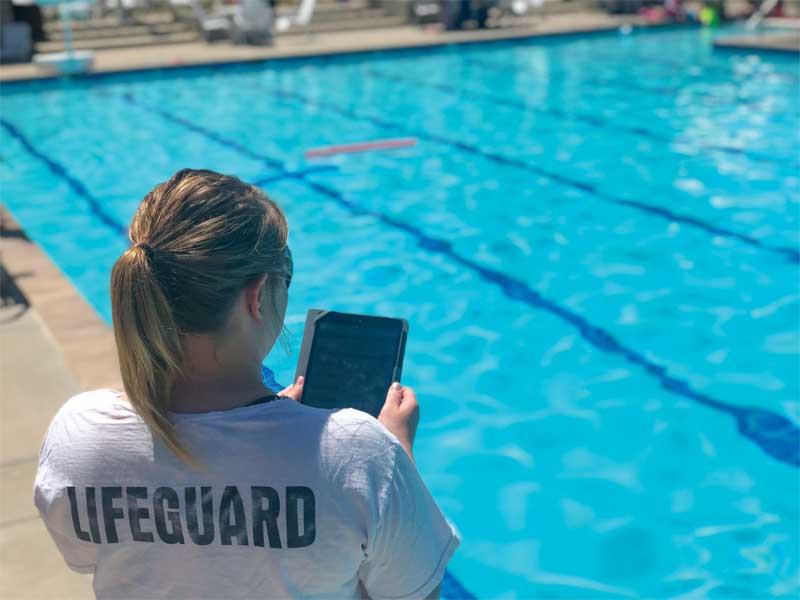 How many managers know when was the last time he/she reviewed the facility's day-to-day operational records? For some, it may be at the start of the season, while for others it could even be last year. In many cases, these records may not have been looked at since they were initially created. In fact, it is quite possible they are the same operational records that have been used for years. Documentation of maintenance issues, safety inspections, and water quality results is more important now than ever, but there are very few facilities that are as diligent as the law requires.
With more government agencies in Canada and the U.S. adopting the Model Aquatic Health Code (MAHC), there is a new industry standard to follow for pool operating procedures and best practices. The last thing a facility manager wants to worry about in the face of potential litigation or a public health crisis is if his/her aquatic team followed the proper procedures for documentation requirements. Many organizations are turning toward digital storage and processing of their records to ensure they are complete and safely stored. There are many options to consider, so facility managers need to make sure he/she not only gets what they want, but also what will keep the facility safe.
Checklists
Every facility has some sort of checklist they follow on a regular basis. These could include daily opening and closing procedures, weekly cleaning duties, or monthly maintenance items. The challenge with the current paper method is there is typically no accountability for items that need correction. For instance, safety checks are the primary method of facility surveillance.
Facility managers, lifeguards, or other staff such as those who handle facility operations and maintenance—or a combination of both—may perform these checks. If these checks are to be useful, they need to include procedures for reporting issues and following up. For instance, how often does a facility manager need to comment about the shower still leaking before maintenance comes to repair it? What if the checklists a facility manager completed every day would automatically send alerts and reminders? With a digital tool, this is not only possible, but automated.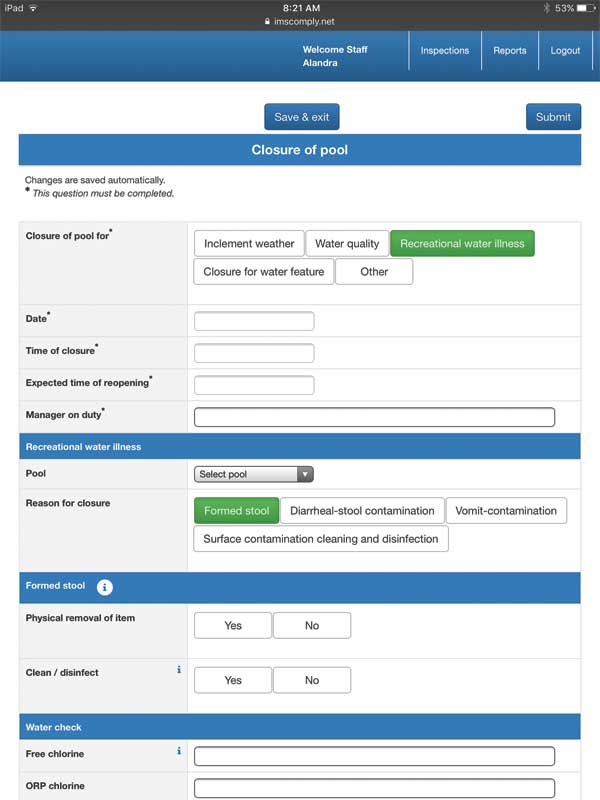 A safety check is a quick method of assessing the condition of the facility and includes an evaluation of specific elements and areas, including communication equipment, rescue, first aid and safety equipment, operational equipment such as lifeguard stands, lane lines, bulkheads, starting blocks, pool decks, waterpark attractions, locker rooms (e.g. dressing/shower areas, restrooms), chemical storage areas, fencing, and access points.
Other items may include checklists for daily oxygen or automated external defibrillators (AEDs), diving boards or waterslides, or even concession areas. Another benefit of digital tools is the ability to customize and create new checklists as items arise that requires documentation.
In-services and trainings
Another area that is critically important to document is on-going training. Every lifeguard should meet an in-service requirement before taking the stand, but how does a facility manager ensure every single lifeguard has completed their in-service?
The in-service records should include the dates and time of the in-service, what topics were covered and who attended. With old paper records, it is hard to track attendance by person and confirm they have recently attended one. By using digital forms, a facility manager can create a dashboard that can highlight lifeguards who have met this requirement versus those who have not. With this information being readily available, staff schedules and shifts can be easily managed, while also making sure everyone on staff is complying with the training standards in place. Further, these records can be extremely handy when it comes time to conducting staff evaluations.
Pool chemicals records
One of the most regular items documented at an aquatic facility is water chemistry. These readings should be performed and recorded several times per day and even up to once or twice an hour.
Historically, these readings were written down in a notebook that was stored in the pump room. This notebook would get splashed on, have spills, may contain illegible handwriting, and even torn or missing pages. With digital documentation, the information is safely stored in the cloud for future access. Additionally, with a digital facility, managers have the added benefit of these records automatically informing him/her about any non-compliance concerns and even recommending actions for correction. These could include chemical dosage calculations or providing step-by-step instructions to remove chloramines. Digital documentation can take a facility's chemical logs to the next level.
Pool closures
Whether it is a contamination issue (i.e. a pool fouling) or weather related, no facility manager likes to close his/her pool. However, when action needs to be taken, facility managers need to document why they closed the pool and what actions were taken to minimize potential risks.
Depending on the reason for closure, different sets of information need to be documented. This makes it hard to create one piece of paper that can work for all situations. For example, why would a facility manager write down the last time he/she heard thunder or what time the pool was closed due to poor water quality? In these scenarios, specific forms have to be created for each reason for the closure, or blank sections need to be included on the forms.
With digital documentation, facility managers can use dynamic forms that only require information to be filled in that is relevant to the reason for closure. This information is complete and safely stored for future reference. Another benefit is the reports can be run to show the most common reason for closure, the frequency of closures by facility or timeline, and several other areas to help identify specific trends and gain insight.