By Bruce Riley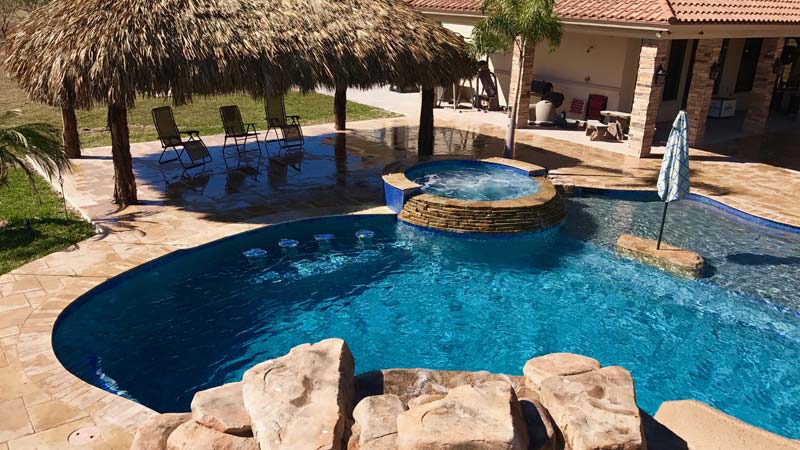 So many options can be added to a pool these days that it can sometimes be overwhelming when deciding which ones to offer a customer. Every builder wants to fulfil their client's desires, as well as exceed their expectations to ensure future referrals. To this end, it is important to design a project that can accommodate a number of different options to achieve the client's idea of their 'dream pool.'
This was the case for Kelly Norman of South Texas Pools in LaFeria, who recently built a third pool for a client and managed to incorporate multiple features to create their backyard oasis. From a custom water feature, slide, and swim-jet system to a large sun-shelf entry, raised spillover spa and a swim-up bar with 'palapa' (an open-sided dwelling with a thatched roof made of dried palm leaves).
To complete this project successfully, Norman made sure to define the client's goals for their backyard, and relied on his experience to select a variety of unique features that would co-ordinate seamlessly with their home and property to give them the finished look they were after.
Defining the client's goals
All pool builders understand the importance of interviewing the client before starting a project to determine what they want. In this case, Norman had worked with this client—over the span of 15 years—on two previous pools, so they were familiar with the each other; however, it did not make this project any easier. In fact, the client looked to Norman to present new, creative options that could be incorporated into the pool. Essentially, the client wanted a unique pool to suit different needs.
For this particular project, the homeowner wanted a pool their teenage children would enjoy, but had specific features for adults, too. This included options that would permit the pool to be used for exercise (swimming laps), as well as for providing entry-level scuba lessons. Further, there was a desire to have an eye-catching water feature, similar to one the client had on a previous pool. That said, the pool also had to have a natural look. To pull this off, Norman took clues from the client's home, along with the country setting, to select the colour scheme and appropriate features to transform the backyard into an outdoor retreat.
Start with eye-catching elements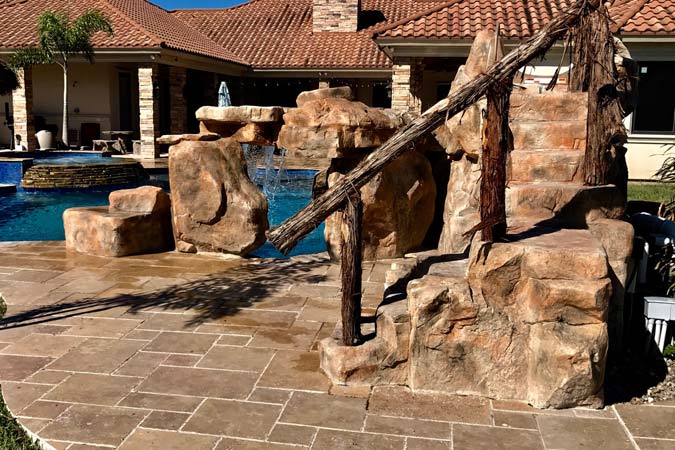 As water features tend to be the focal point of a pool, it is best to base the design around these components. Whether it is a waterfall, grotto, or slide, it is important builders show the customer different options from previous projects or product catalogues, so they can quickly zero-in on the type of water feature that will define their pool's overall design.
One of the previous pools Norman built for this customer had a large waterfall that was constructed free hand using natural stone boulders. While this gave that pool a striking look, the stone boulders available in the area where the new pool was being installed were comprised of sandstone and/or limestone composite. These boulders tend to wear down and, as a result, often leave debris in the pool in the form of dirt or sand. To remedy this, Norman introduced the client to another product—cast-concrete rocks.
One of the reasons Norman specified this product was because there were several prefabricated kits available to show the client. However, he was concerned it was going to be a hard sell and the client might reject this option because it was a manufactured stone. As it turned out, this option intrigued the client and liked the fact Norman was able to show a picture of what the finished product would look like.
In fact, many pool builders today are now offering prefabricated kit waterfalls, grottos, and caves specifically because they can offer a consistent, finished look for many different water features. Caves and grottos are essentially a super waterfall feature, as they provide all the benefits of a waterfall (visual beauty and the calming sound of cascading water), but also add fun and excitement to the pool—especially for children.
Unlike some artificial rock options that are cast from rubber moulds, new component systems look real because they are cast from actual rock, allowing them to take on the shape, character, and texture of natural boulders. As a result, it can be hard to tell the difference between real rock and cast-rock.