When they work together properly, the pump speed adjusts automatically to the needs of the heater (i.e. a higher water flow when in heating mode). The VSP also lowers the rate of flow and, of course, reduces noise, when the pool heater no longer needs to operate.
Pool owners looking for even greater efficiencies can add a water-cooled motor. It contributes to heating the pool water at no additional cost, because the motor recovers and returns the heat it generates to the pool.
How to specify the right heat pump
As heat pumps become increasingly popular in the North American aquatics market, with no shortage of options, the following is a quick checklist to consider when selecting the right heat pump for the job.
The heat pump should have a coefficient of performance (COP) rating of at least four in low temperature and six in higher temperature conditions.
Check to ensure the heat pump's COP is certified by the Air Conditioning, Heating & Refrigeration Institute (AHRI) to avoid misleading claims.
The heat pump's minimum capacity should be taken into consideration, and aim for a larger unit when possible.
The unit should have a long warranty, as well as 100 per cent anti-corrosion protection for components.
Check the compatibility of the selected heat pump with the following auxiliary components: Variable-speed pump (VSP); Water-cooled pump motor; A pre-filter to reduce incoming dirt, which will also lengthen the life of the main filter.
Other nice-to-have features include: Wi-Fi connectivity that allows homeowners to use an app, especially designed for mobile devices, to control temperature and a modern design to co-ordinate with the homeowner's landscaping.
Easy installation and positioning
Unlike natural gas or propane systems, there is no need to run a gas line through the backyard when using a heat pump. There is no need to install a large propane tank, either. Some pool owners might confuse heat pumps with geothermal heating; however, heat pumps are self-contained and only require simple connections to the circulation system. Geothermal heating options, on the other hand, often require a fair amount of excavation or drilling.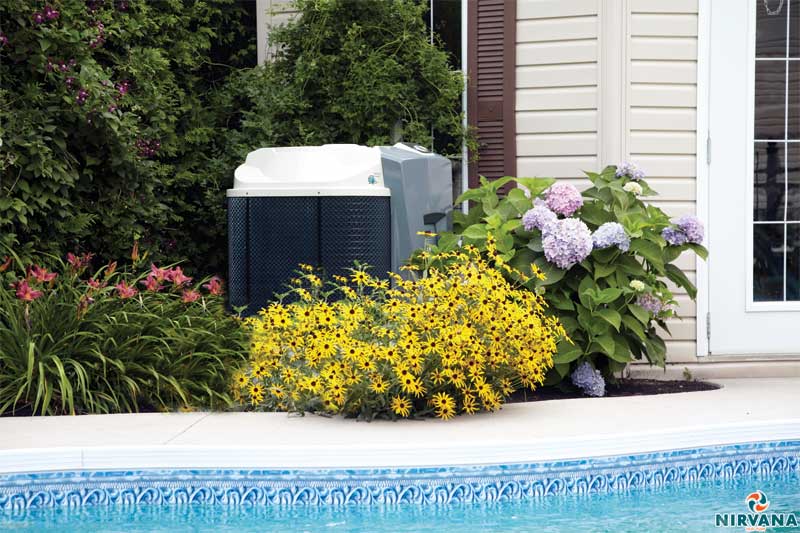 A heat pump simply needs two connections: one for electricity (typically a 220V power source) and one to the pool's VSP, usually with a dry connect (if applicable). It connects to the pool water line with a simple plumbing job; a bypass with quick-connect is recommended to simplify tasks such as cleaning, maintenance, and winterization.
Since a heat pump uses heat from the ambient air, the unit needs to be outside in an open area. If there is an area around the pool that gets lots of sun, or is particularly hot in the summer, these could be great spots for installation to maximize efficiency. An interesting side effect is the area around the heat pump will actually get cooler when it is operating.
The heat pump should be installed as far away as possible from walls and fences with a clearance of at least 300 mm (12 in.). Better air circulation around the heat pump will improve its efficiency by increasing the ambient warm air available that can be transferred to the pool.
Winterization
When it is time to close the pool for the season, protecting and winterizing a heat pump is simple. The first step is to turn off the electrical breaker. Then, unplug the bypass lines and tilt the unit to ensure it drains properly. As with any pool equipment, removing as much water as possible from the pipes is critical in climates with sub-zero temperatures. Finally, the water intake and outlet should be covered or plugged to make sure dirt, snow, water, or critters do not get inside the unit over the course of the winter.
Time to shop
Thanks to the many benefits heat pumps offer, it is no surprise that an increasing number of homeowners are considering these systems to heat their pool. Retailers can easily sell heat pumps based on their efficiencies and performance, which can significantly reduce a pool owner's water heating costs (up to 75 per cent in some instances).
Further, purchasing a heat pump gives those homeowners who try to make conscientious 'green' choices something to be proud of when it comes to the operation of their pool. In a society that is moving away from carbon-based energy sources, heat pumps offer an energy-efficient option.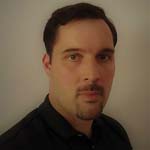 Geoffrey Pelsise is vice-president of research and development at Nirvana Heat Pumps Inc., a manufacturer of heat pump equipment in Grand-Mère, Que. Pelsise endeavors to develop energy-efficient technologies for swimming pools. He has been with the company for seven years and can be reached via e-mail at gpelsise@nirvanahp.com.