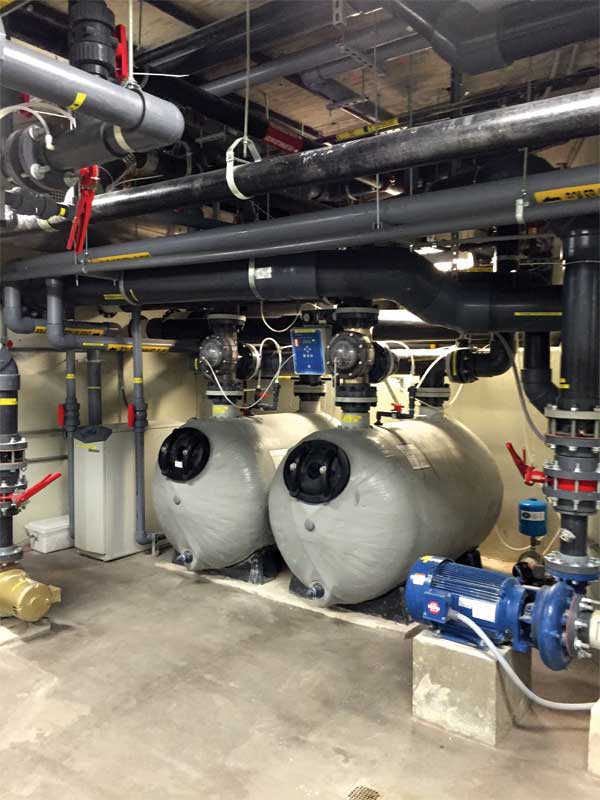 All service professionals know if an aquatic facility was not built recently, chances are the pump room could probably use an upgrade. Strategic improvements can enhance the 'feel and smell' of a pool environment. Existing facilities can drastically reduce their operating costs by upgrading pumps and heaters as well as improving the water and air quality by adding controllers and ultraviolet (UV) systems. Service professionals are helping aquatic facility managers take advantage of energy rebates and incentives by evaluating the pool room as a whole so every component runs with greater synergy. Further, by upgrading to energy-efficient, technologically advanced equipment, facilities can provide a better, safer, and healthier environment for swimmers.
Rebate alert
Older pumps with induction motors only operate at one or two speeds and, as a result, draw more energy than is required to circulate pool water. These units must constantly operate at high speeds to perform the pump's most demanding jobs (e.g. running a waterfall or pool cleaner). However, it takes far less power to simply keep the water filtered—a difference single-speed pumps cannot address.
Variable-speed pumps
Newer variable-speed pumps (VSPs) differ in their ability to be programmed to operate at set speeds so they can deliver the correct flowrate for each task they perform. This characteristic enables facilities to reduce energy consumption and increase savings. These pumps can also be programmed to achieve turnover times of exactly six hours, even if the filter is dirty. This allows motor speed, power, and energy to be reduced during times when the filters are clean, instead of sizing the pump to assume worst-case operating conditions.
Some VSPs even have built-in, constant-flow software, which maximizes the advantages these units have to offer, as the program automatically adjusts the device's speed to deliver the required flowrate for each programmed task. This means even as the filter accumulates dirt, the pump will sense resistance in the circulation system and automatically increase its speed to continually provide the proper flowrate that the water feature requires.
It does not matter what type of pump is being used, slower speeds save energy. This also reduces noise levels, as well as wear and tear on the other equipment the water flows through. Also, in some areas, VSPs are eligible for rebates and other incentives provided by local utilities. Therefore, facility operators must check with these companies to help offset the cost of a new, energy-efficient VSP for the pool.
Variable-frequency drives
Specified to save energy, space, and costs, most variable-frequency drives (VFDs) are designed to be the heart of the pump room. With minimal payback time, they provide automatic energy optimization and a built-in direct-current (DC) link reactor that reduces harmonic noise to protect the drive. Some VFDs also offer an initial ramp, which provides pump acceleration to a desired minimum speed. This is when the normal ramp takes over, preventing damage to thrust bearings and overheating of the pump.
"VFDs are quite amazing," says Richard Deakin, commercial product development manager at Hollandia Gardens Inc. "Many facilities where we installed these drives have achieved an electrical cost savings of more than $10,000 per annum. The units aren't free, but the payback is normally less than 18 months. Some municipalities are even providing rebates from utility companies, which makes the payback period even shorter."