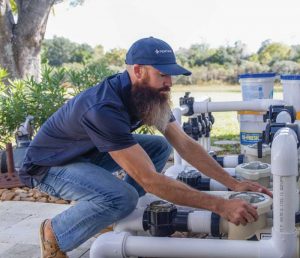 By Jimmy Miller
As planning for the 2023 pool season begins, it is a good time to brush up on the fundamentals. Pool professionals face a rapidly evolving industry, and this includes a shift in variable-speed pump (VSP) technology. By preparing for servicing variable-speed pumps now, service professionals can feel confident in tackling common challenges that may arise in the upcoming season.
Maintaining safety
Whenever there is a concern about equipment, worker and customer safety is top priority. First, a thorough inspection of the pool pump containment area and any exposed plumbing should be completed. Service professionals should always locate the main electrical circuit breaker panel to identify and confirm which breaker is designated for the pool pump before working on the equipment. A system should not be on when checking pipes or opening a pump, and the circuit breaker should be flipped so no power is going to the system before attempting any maintenance.
Optimizing flow
Single-speed pumps are less energy efficient than variable-speed pumps. When servicing a pool with the latter, the first thing to consider is the flow rate. Flow rate, or the volume of water passing through the pump, is a critical calculation step to determine the proper water turnover rate to maintain clarity and sanitary conditions. The flow rate should also be tested and adjusted regularly to maintain pool conditions.