By Crystal Lengua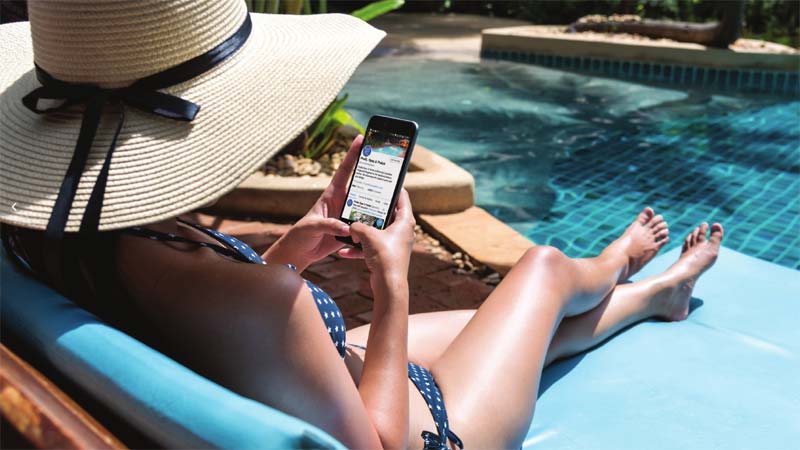 Using social media marketing as a business tool is no longer an option. Whether social platforms are managed in-house or a third-party communication sub-contractor is used, it is important for the business to be present in this space.
The pool and hot tub industry has an undeniable advantage when it comes to social sharing, as its products appeal to the masses and deliver quintessential content in the form of beautiful images, dreamy backyard goals, and news about pool safety—not to mention installation videos, before and after project visuals, and so much more. Social media marketing also provides businesses with quantifiable data that can help shape their marketing and advertising efforts through (mostly free) analytics and digital insights that are readily available on all social platforms.
Some benefits for social media marketing for business include:
Increased exposure/brand awareness.
Marketplace insights and consumer purchasing data.
Search engine optimization (SEO).
Increased inbound website traffic (which is how sales are increased).
Higher sales conversion rates (i.e. taking the time to develop relationships with consumers can show positive results in sales).
Industry and consumer perception (i.e. the business becomes an information hub).
Competitive analysis/research.
Cost-effective advertising with targeting capabilities.
Communication and feedback.
Recruitment for employment.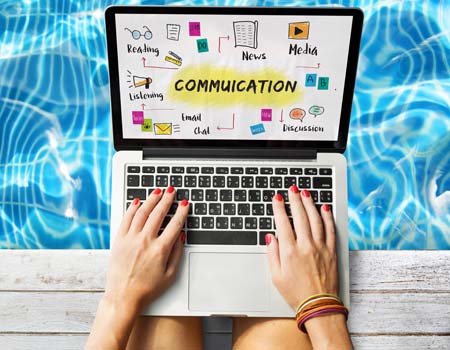 The main social platforms for business are Facebook, Twitter, Instagram, YouTube, Pinterest, and LinkedIn. Being active on all these can be beneficial, but only if a business has the resources to stay active on all of them. If a business does not have the time or content to post frequently, it runs the risk of appearing indolent or unsuccessful. In fact, it may even appear as though a company is out of business.
Remember, social media is a communication and conversation tool; therefore, it is a good idea to practice the 80/20 rule. Eighty per cent of all posts should be industry related and beneficial for the business's audience, while the remaining 20 per cent can be used to promote the business. Few people will stay engaged with a brand that is constantly pushing purchases on them—people want information that is beneficial, interesting, and meshes with their lifestyle.
The following is a guide to some of the most popular social media platforms. Some of the biggest advantages and disadvantages are highlighted, along with some tips on how to use these platforms successfully.
Facebook
Undoubtedly, Facebook is the most popular and useful social media platform out there. A business can share photos, blog posts, live video, links, and target its posts so there is a better chance of reaching the intended audience.
Advantages
Facebook Live is a great way to show off the final step of a hot tub installation or it can be used as a method to train employees if a business operates multiple locations, or in different regions, and cannot get all of its staff together for a demonstration. For instance, a live feed of an installation or product repair can be broadcasted, while at the same time answering any questions viewers may have in the live feed chat.
Targeted ads allow a business to use its marketing money wisely. Audiences can be targeted by selecting their interests via keywords, age range, location, relationship status, education, workplace, job titles, and more.
Facebook Messenger equips businesses with a real-time, chat-bot shopping experience (free of charge).
Facebook has been working on a project called 'Spaces' that is designed to allow friends to connect in a virtual reality (VR) setting. People will create avatars of themselves and be able to interact with friends, strangers, and businesses. Stay ahead of the game by incorporating this platform when it is released sometime in 2018.
Disadvantages
The algorithm is set in such a way that organic reach is practically non-existent for business pages, so it is important to ensure the content posted is shareable and beneficial to the business's audience so they 'like' and promote the post by sharing it with their followers. In turn, this increases the reach organically.
Facebook is an oversaturated platform for ads; therefore, it is important that a business's campaign is worthy of attention and a budget is set to pay for its promotion.
Targeted ads could become costly depending on the business's reach criteria and frequency of promoted posts.
Tip: When targeting an audience, it helps to create an ideal customer persona (or a few) to visualize who the message is speaking to—in addition to selecting keywords that are not necessarily that of the pool and hot tub industry, but are in tune with the lifestyle of the targeted consumers.