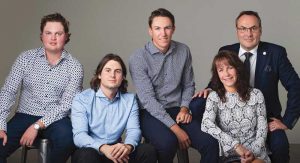 A family-owned business providing the complete pool package
Established in 1986, Forest City Pool & Patio began as a dream between two partners with growing experience in the industry. Since then, it has evolved into a flourishing business run by the Brunner family in London, Ont. The expansion of its multi-faceted and industry-forward team has allowed the company to branch out beyond pool installation, into complete backyard transformation.
Pool & Spa Marketing recently spoke with Markus Brunner, president of Forest City Pool & Patio, to learn more about the shop's culture, some of their recent projects, how they are navigating the industry through the pandemic, and what they see for the future of the business.
Pool & Spa Marketing (PSM): What is the history behind your business?
Markus Brunner (MB): As with many other pool companies, Forest City Pool & Patio Inc. (FCP) began with a dream between me and a partner, along with a 1981 GMC van and a '78 Ford F-150 pickup truck, after having worked at another pool company. Myself for one year and my partner for several years. We broke away in 1986 to start our own company in London, Ont. I bought out my partner in 2000.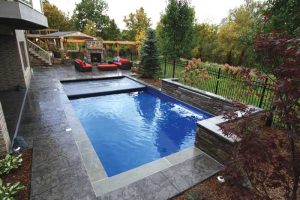 It was a challenge at the start, as it is with most companies. The work was there, but to gain traction in the community and beyond proved difficult for our new company. For the first two years, we had to subcontract for one of the established pool companies in the area to make ends meet. But after a few years in business, we established a name for ourselves. After that time, we had enough of our own new pool contracts for the season and beyond. We also do indoor pool installations and renovations, which carry through into the winter months.
We initially installed steel-walled pools with walk-in steps, but we quickly realized by installing these pools, it landed us in the same category as all our competitors. We decided that by educating ourselves by means of taking courses and going to trade shows, and by implementing new knowledge and technologies, it would set us apart from our competitors. We continue those same practices to this day, so our clients continue to benefit from choosing FCP. We're also heavily active in our national pool association, The Pool & Hot Tub Council of Canada (PHTCC).
Forest City Pool & Patio prides itself with talented staff. Over time, we've built a team of qualified people in all facets of the company, who we consider to be our second family. Without all our loyal employees who have been with us for many years, we would not be where we are today, and for that we're extremely grateful. It has truly become a family business, with myself as president; my wife Ann Marie as general manager since joining FCP in 2009, after working with her family's pool distribution company for almost 25 years. Our three sons, Lukas, Cole, and Max, now in their 20s, have worked in the construction and service departments since they were teenagers, while completing their degrees in business administration in marketing (Lukas) and construction engineering management (Cole). Everyone is learning, growing, and developing their own set of expertise to allow for company growth, and continuing to build an established foothold in the industry. Together, we're paving the way for the current, next, and future generations to maintain and grow through life and business at Forest City Pool & Patio for years to come.