By Ralph Kittler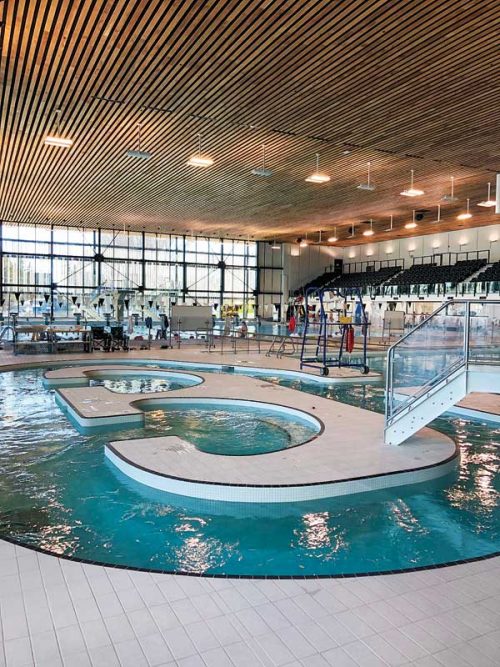 Of late, exposed wood has gained popularity with many indoor pool designers for multiple reasons. The material lends a unique and modern look that can set a facility apart from the rest. As an added bonus, it can even contribute to Leadership in Energy and Environmental Design (LEED) points to a natatorium due to the renewable nature and carbon footprint benefits of its use.
Why wood works
Trees absorb a good amount of carbon dioxide (CO2) during their lifetime—in fact, carbon constitutes nearly 50 per cent of their dry weight. As trees get older and decay, they release CO2 into the atmosphere. Cutting them down and using timber in construction instead can prevent the release of this harmful gas—at least for the building's lifetime; longer if it is reclaimed when the structure is old.
As a building material, wood offers many environmental benefits—renewability and sustainability, to name a few. Compared to concrete and steel, wood products help to increase a building's energy efficiency and minimize the energy consumed throughout the life of the product. Research points to the many advantages of using wood as compared to other materials, such as carbon emissions, effect on water quality, and overall environmental impact when measured over the complete life cycle of the structural material. In addition, a study by the Consortium for Research on Renewable Industrial Materials (CORRIM) found the total life-cycle emissions for wood houses are lower by as much as 31 per cent when compared to houses of concrete or steel, even before accounting for the amount of carbon stored in wood products.
According to Make It Wood, an Australian organization that advocates wood as a sustainable building material, "The production and processing of wood uses much less energy than most other building materials, giving wood products a significantly lower carbon footprint. As a result, wood can be used as a low-emission substitute for materials that require larger amounts of fossil fuels to be produced."
The group further states using 1 m3 (35 cf) of wood, instead of the same amount of brick or concrete, can save approximately 1 tonne of CO2.
The Canadian Wood Council (CWC) says the durability of wood is often a function of water, but that does not mean wood can never get wet. On the contrary, wood and water can co-exist. Wood is a hygroscopic material, which means it naturally takes on and gives off water to balance out with its surrounding environment. Therefore, it can safely absorb large quantities of water before reaching moisture content levels that can cause fungi and decay.