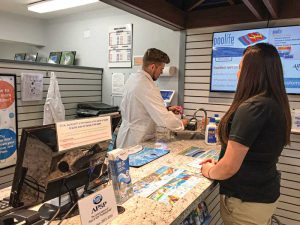 The pandemic's effect on the supply chain has created shortages in pool materials such as polyvinyl chloride (PVC), plastic, concrete, and more, causing construction materials to increase in cost by more than 31 per cent over the past two years. In addition, an increase in fuel prices, pool chemicals, and a sharp rise in inflation has made it critical for pool businesses to save on costs and generate additional streams of revenue in 2023. Although the demand for outdoor living products continues to be strong, this is a unique time in the industry, and pool and spa retailers need to look at ways to grow their business organically so it can continue to flourish next season.
Handling more customers
Consumer expectations are at an all-time high, especially for convenient and timely service. If a business cannot currently meet the expectations of a growing number of customers, it needs to first put a plan in place to better position itself to take on new clients before figuring out how to gather new clients.
For example, a business should consider purchasing efficient software and systems to help save time and ensure record-keeping accuracy. Basic daily tasks should be quick and easy to execute. The business should establish clear and consistent communication protocols with field technicians. The business would also benefit from offering clients their preferred payment method, including online or mobile. These strategies will help enable pool and spa businesses to have additional bandwidth to set themselves up for growth, success, and satisfied customers.
Focusing on retail sales
For many pool and spa businesses, service work is the foundation of their business. However, there could also be a major opportunity to grow a pool service business with extra revenue from retail sales and upselling. Since service teams interact with customers daily, they can help customers get the most out of their pools by offering supplies and accessories from their retail operation as well.
Buying an extra route versus organic growth
There are three primary ways to find more customers to grow a pool service business:
Partnerships with apartment/hotel owners, builders, and property managers.
Purchasing pre-existing pool service routes from brokers or other pool service businesses.
Using marketing and word-of-mouth to grow organically.