A multiphase approach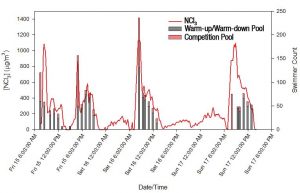 The study is being conducted as a three-phase project. The first phase involves measuring water and air quality at indoor aquatic competition venues in Michigan and Indiana before and during competition events with a large number of swimmers. Researchers will compare the water and air quality measurements to determine the impact of heavy bather load.
This phase is already underway. So far, the data collected demonstrates how the number of swimmers in a pool (bather load) affects the concentration of trichloramine in the air. The measurements of trichloramine in the air with corresponding measurements of bather load in two pools that share a common air space is illustrated in Figure 1.
There is an obvious, strong correlation between air concentrations of trichloramine and the number of swimmers in the pool.
Phase two, expected to last an additional three months, will focus on continued monitoring and analysis of air and water quality from chlorinated, indoor pool facilities that are used for lap swimming and competitions. Phase three, expected to last 12 months, will include research at roughly 15 additional facilities selected for inclusion based on the results of a two-stage survey approach. The first stage of the survey will identify pool operators who are interested in offering their facility for participation. The second stage will involve a screening of the facilities to identify venues that span a wide range of use types and geographic locations. Factors that will be considered in the selection include pool type and bather load, the facility's air handling system, the characteristics of water recirculation in the pool, and various water treatment processes.
Pool operators who are interested in offering their facility for inclusion in the study may complete the survey at www.cmahc.org/air-quality-survey.php. All facilities will remain anonymous. Phase two and three of the study is contingent based on available funding.