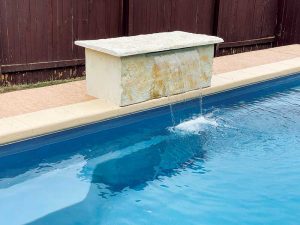 Tips to create a beautiful, cohesive backyard landscape design
By Zayvian Camacho
Poolside water features are integral to the architectural esthetic of a home and its backyard. With the continued popularity of modern homes and expansive outdoor living spaces, the water features placed on a pool must integrate seamlessly into the surrounding design. Linear pool shapes have also become more of a trend, leading homeowners to desire water features which mirror this form.
However, finding attractive, linear-shaped rocks at a local quarry is a challenge. Artificial rock kits can provide builders with a modern water feature option to add to any backyard pool. From simple rectangular benches to larger, more complex cave-style water features, these prefabricated design kits allow builders to offer easy-to-build options which provide a consistent, finished look to new pool construction or existing pool renovation projects.
Simple construction
Many pool builders are now offering prefabricated kits for different water feature elements. These component systems allow them to show clients a brochure of the final product at the time they sell the job. When a builder orders a prefabricated kit, it comes complete with all the parts, and each system is built by assembling and fitting the parts together.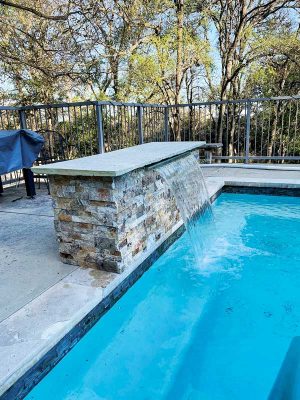 From a builder's perspective, the advantage of installing prefabricated water features is they are designed to ensure proper water flow and weight distribution. They are also reinforced with steel, which makes them structurally sound. Additionally, real sandstone or limestone boulders tend to wear down and, as a result, often leave sand or dirt in the pool. Cast concrete can be designed to mimic the look of limestone, in order to remedy this problem. Unlike artificial rocks cast from rubber moulds, these rocks look real because they are cast from actual rock, allowing them to take on the shape, character, and texture of natural limestone. As a result, it can be hard to tell the difference between real rock and cast concrete artificial rock.
Modern focal point
As water features tend to be the focal point of the pool area, it is best to base the design around these components. Modern linear water features are primary eye-catching elements, so it is important for them to be strategically located where they can be seen from the home. Noting which doors face the backyard as well as the ideal views from surrounding windows will help create the greatest visual impact and truly set the tone for the backyard.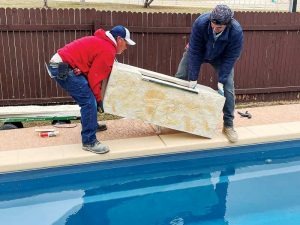 According to landscape designers and architects, mixing light- and dark-coloured elements is popular in modern backyard decor. As a result, many pool owners are selecting rock water features which imitate the look of light limestone. Today's cast concrete artificial rocks not only integrate the colour of natural limestone, but they also have chipped surfaces similar to the real thing. These easy-to-install units include a weir in their design, to create a clean, modern waterfall effect. Bathers can even use the water feature as a bench or a launch pad, and the light colour blends easily into a modern backyard esthetic.
Brilliant lighting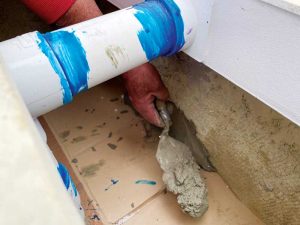 Like most landscaping projects, adding light to water features maximizes their visual impact once the sun goes down. It also allows homeowners to use their outdoor spaces more often. Artificial rock water features are equipped to be illuminated from underneath. In fact, many of the available kits come with hollow cavities which run under the caps of benches and top stones, making it easy for builders and landscapers to add light-emitting diode (LED) lighting. Fibreoptic light bars can also be fitted into these modern water features by cutting out slots and tucking the bars into them. The ability to change the colour of the light will give the water feature an even more dramatic effect. Additional illuminated pavers beneath the water feature columns will add a warm glow to the entire area.
It is essential for builders and homeowners to think about how these areas will be used during the day and at night, as well as throughout the year. By day, water features provide soothing water sounds and terrific play areas for children to climb on, jump from, and sit under. By night, these same water features create a focal point in the backyard where the falling water and rocks are lit up by fire and lights. Some builders also include coloured bubblers within the pool, especially in the shallow end, to create a fire-like light and water effect. Strategically placed spotlights around the backyard will draw attention to trees and seating areas, while firepits will contribute more calming, natural light.