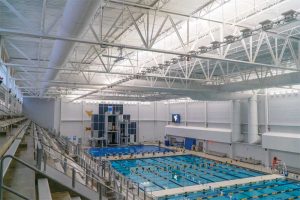 By Philip Daughtery
Indoor pools are challenging environments for design engineers, especially when considering the indoor air quality (IAQ) and the longevity of exposed metal components.
A natatorium's corrosion-potential environment of high humidity, gaseous pool chemicals, and condensation is akin to a late-night horror
show for metal heating, ventilation, and air conditioning (HVAC) ductwork.
The toxic mix slowly but steadily disintegrates metal air distribution systems in natatoriums. The condensation that forms on metal duct and other metallic materials in a natatorium expedites the disintegration.
Considering the detrimental effects of corroding ductwork, fabric ductwork is being used in many new and renovated natatoriums. Unlike metal, fabric does not allow condensation to form because it uses strategies inherent in its technology to prevent it. Fabric duct can be specified as permeable, which allows air to pass through the fabric weave. This airflow through the entire duct surface prevents condensation on the material. Fabric duct also does not require special coatings to protect against corrosion or rust. The polyester fabric used in natatoriums should be UL-2518 classified. Primarily referenced for flame and smoke compliance, UL 2518 also requires a test demonstrating a fabric swath sealed in a 100 per cent relative humidity (RH) environment for 60 days does not propagate biological growth. Fabric duct can also be specified with an additional anti-microbial treatment for extra protection against mould and other microbial growths.
While condensation is typically blamed, the corrosion of metal surfaces in natatoriums could be caused by a variety of issues that may go well beyond the material's vulnerability:
Round metal duct typically should be double wall to thermally buffer the cold temperature air flow from the duct exterior that is exposed to humid conditions. Rectangular duct demands insulation either in the interior or wrapped around the exterior. Although it can be expensive and unsightly, skipping the insulation can allow otherwise avoidable condensation to form on the duct surface.
Certain metals are less likely to corrode, such as stainless steel or aluminum or hot-dipped galvanized steel, and are better choices than electro-galvanized steel. However, an improperly maintained natatorium environment will eventually take a toll on any metal surface.
Coatings on metal duct are necessary and helpful, but may require periodic maintenance as they too, can corrode or flake off into the pool water.
Keeping strict RH and temperature set points is not a surety. New maintenance employees from staff turnovers do not always get the training their predecessors have in troubleshooting set point deviations. Mechanical equipment calibration, which goes beyond most natatorium staff expertise, needs quarterly checks to make sure the equipment is running as per the consulting engineer's design.
Indoor pools designed with materials unconducive to natatorium environments will foster a corrosive process that shortens ductwork lifecycles.
These points are all related to the four pillars of natatorium design—building materials, ventilation, mechanical equipment, and water chemistry—that must all work in synergy. If one or more of the four pillars are poorly designed or not maintained, it will be difficult to provide an acceptable natatorium environment. Consequently, many North American natatoriums do not operate properly.