Easy as ABC
Water chemistry will always be paramount for spa owners; therefore, when the maintenance program can be minimized via scientifically proven and trusted methods, it leaves more time for people to reap the health and wellness benefits of their spas.
Today, retailers can help their customers spend less time with chemicals and more time enjoying the spas they purchased from them. It is a win-win scenario for all parties as the complexities often associated with water chemistry are eliminated.
When the correct amount of sanitizer is maintained in the water, paired with pre-measured, dissoluble water conditioning products that can simply be tossed into the spa, great water does not get much easier than this. Consumers do not have to handle harsh chemicals and shock as often as was necessary in the past. In fact, many spa owners have gained confidence in single-dose products that are pre-packaged as it eliminates the need for measuring and the potential for spilling while, at the same time, offering speed and convenience.
Green benefits of water care advancements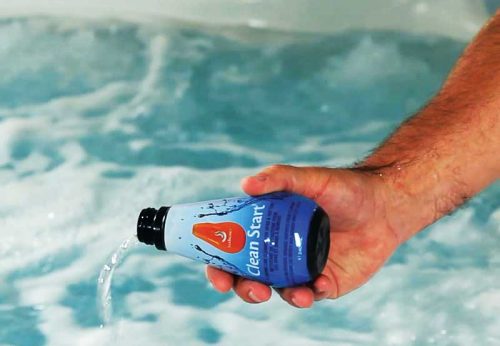 As a result of some modern water care innovations, a positive side effect has also created a green movement. In fact, some companies have won awards for their contributions to spa water chemistry because their products are not harsh and fall into a 'green' category of alternative spa water care.
Whether one is talking about dissolvable gems that help keep water balanced and soft, or proven plumbing line cleaners that eradicate biofilm and other buildup, when they are used in conjunction with each other, spa water will last longer. When spa water lasts longer, it does not have to be drained and refilled as often as in the past. Considering many units hold approximately 1900 L (500 gal) of water, and the number of people who own a spa, it adds up to saving a lot of water.
From a chemist's perspective, this author believes these innovations work toward taking the uncertainty of spa water care almost entirely out of the hands of consumers who do not want to be burdened at home using products they are unfamiliar with and, many times, not getting the results they want.
Spa owners have lauded some of these newfangled products because they are realizing the health benefits of hot water bathing—without the headache of overbearing water care. Easy water care maintenance innovations are helping spa owners attain the desired water quality parameters in more convenient methods.