By Jason Cramp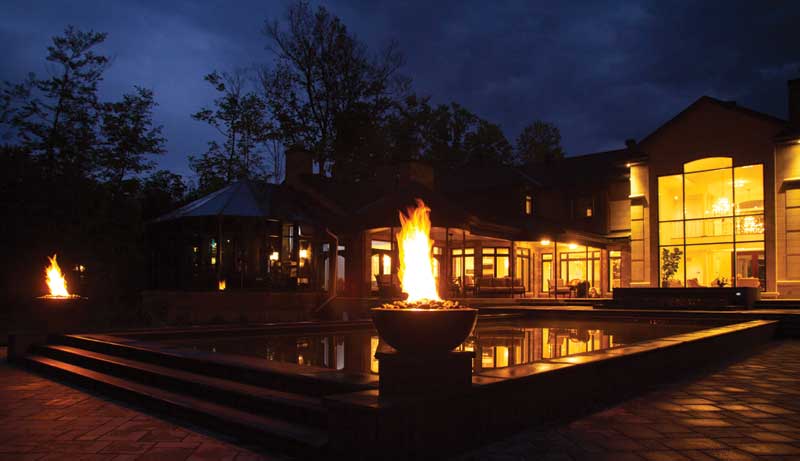 After installing a freeform lagoon-shaped infinity pool at this homeowner's previous residence, Roger Willis Pools & Landscapes was once again called upon to install a more traditional pool, spa, and landscape at their new home in Manotick, Ont.
The project comprised a large 7.3- x 15-m (24- x 50-ft) insulated concrete form (ICF by NUDURA) cast-in-place concrete pool with a maximum depth of 1.6 m (5.5 ft), making it ideal for swimming lessons, watersports, and exercise. The far end of the pool includes a side-to-side shallow lounging area with a depth of 152 mm (6 in.). This area also leads to the granite pool steps, which include two water bubblers with lights and are flanked by two raised concrete fire bowls with integral water spouts to emphasize the opulence of the pool space.
The upper area, located closest to the home, includes an insulated cast-in-place 2.4- x 4.8-m (8- x 16-ft) perimeter overflow spa equipped with multiple massage-jet bays. The spa, designed with a custom automated cover and geothermal snowmelt system, can be used year-round.
With the homeowner's desire to view the pool area immediately when entering their home's main entrance, the entire pool was raised 457 mm (18 in.) from the lower deck.
Great detail was put into all of the finishing details on this project, too. For instance, the raised pool walls are faced with flamed-black granite and capped with a custom double-bullnose 51-mm (2-in.) flamed-black granite coping. The pool's interior complements its exterior as it is coated with a black finish and has a black iridescent tile waterline manufactured by Lightstreams Glass Tile of California. The spa is finished with the same black iridescent tile as the pool and comprises more than 14,000, 51- x 51-mm (2- x 2-in.) individual tiles.
The large expansive decks help tie everything together. The lower patio was finished with a polished exposed aggregate stone, while the upper decking features flamed-black granite coping and imported Lebanese limestone. The pool and spa are heated geothermally and are also fully automated.