By Gary Novitski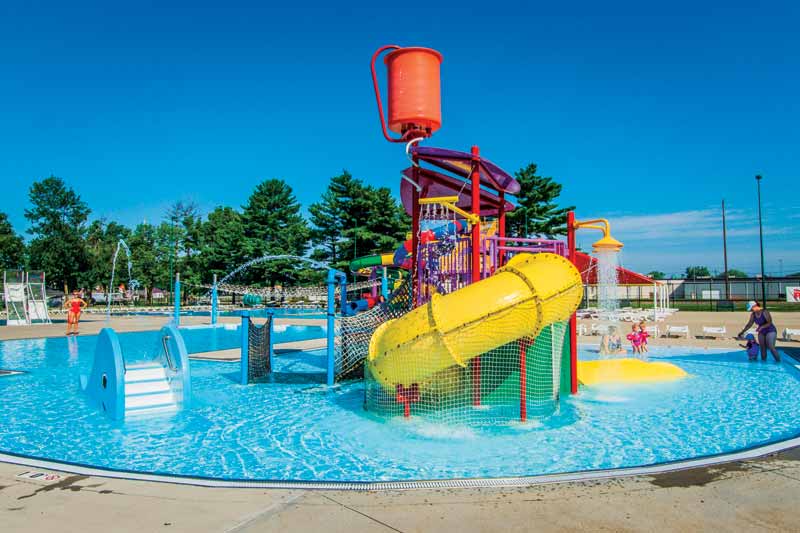 The city of Vincennes, Ind., has been home to a unique aquatic facility for the past 80 years. Known by locals as "Rainbow Beach," the centre was born in 1937 as a federal works progress administration project. Initially, the facility had two central goals: to provide jobs for unemployed workers during the Great Depression, and to address an alarming increase in the number of children who had drowned while swimming in the nearby Wabash River.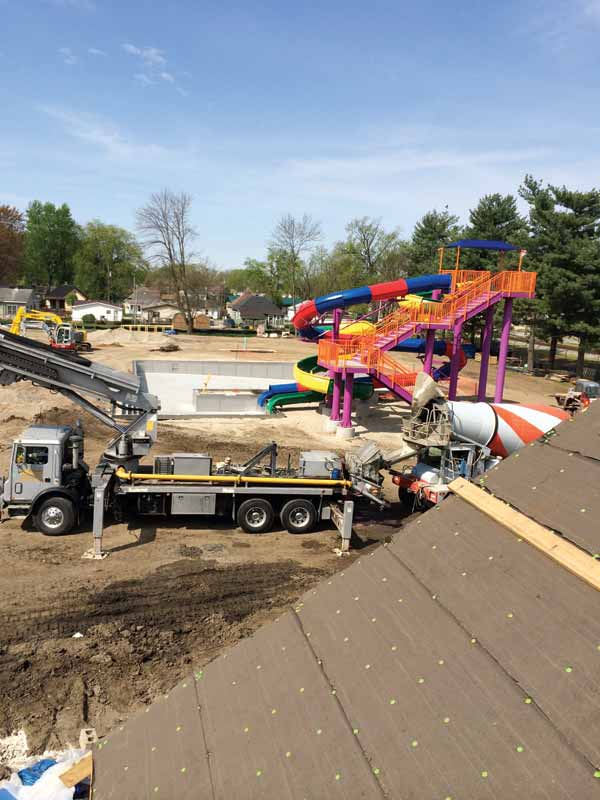 The original aquatic facility was among the most innovative of its kind. Initially designed by local architectural firm Sutton & Routt, the centre featured a vast pool surrounded by sandy beaches. A tall tower illuminated with colourful lights stood in the middle of the pool; water cascaded down the sides of the installation, resulting in a 'rainbow' effect. It was one of the first public facilities to incorporate both water and light features—not to mention a 'beach entry' for patrons.
Rainbow Beach is the largest and oldest aquatic facility in the state. From 1937 into the 1960s, it was a summer destination for families throughout Indiana and neighbouring Illinois. Postcards from the 1940s called it "Indiana's most beautiful bathing beach."
Those who remember visiting the facility in the 1940s recall the sandy beaches, ornate planter urns with water fountains pouring into the pool, and the colourful lights. The pool also featured a tall diving tower, as well as several other smaller diving boards.
In the mid-1960s, the facility's extensive use took its toll and city officials had to decide whether to permanently close Rainbow Beach or perform extensive repairs. In 1971, the decision was made to redesign the pool by removing the sand beaches and adding regulation swim lanes.
Following a successful renovation, the centre was embraced and well-used by patrons for another 40 years, but eventually wear and tear again forced community officials to re-examine the pool and its surrounding amenities.
For the second time, it was decided the entire location needed to be reconstructed to bring it up-to-date for users; however, as with many parks and recreation facilities, a change of funding became a significant hurdle in regard to preserving the legacy of Rainbow Beach.
Grassroots movement
The fond memories of this unique aquatic facility were strong among the residents of Vincennes—and it was this legacy that created a grassroots approach for a city-wide effort by residents and businesses alike. The goal was to raise taxes and sell bonds to fund the facility's renovation and restore it as a centrepiece for the city.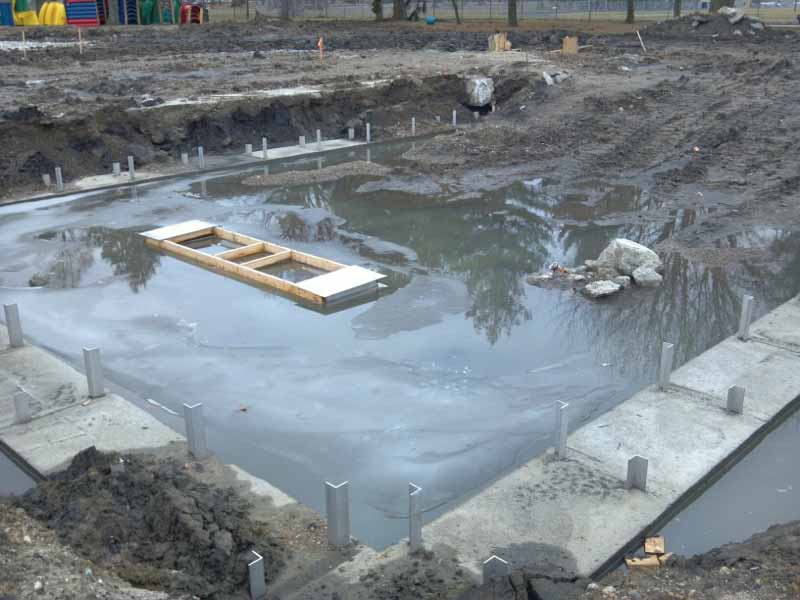 Situated adjacent to Gregg Park, the municipally owned aquatic centre is part of the Vincennes Parks and Recreation. Steve Beaman, the department's superintendent, was one of the main supporters of the renovation.
Beaman spent weeks peddling his vision for a new Rainbow Beach—a passion fuelled by his own childhood memories of riding his bike with his buddies to the pool back in middle school when it was "the place to go" during the long summer months. Beaman said that as he spoke to more people about Rainbow Beach, he started to hear similar stories from members of the community.
For Beaman, this commonality proved Rainbow Beach to be a summer hot spot that created strong generational ties. The pool was part of local history and residents wanted to maintain it for future generations.
New design
The Rainbow Beach renovation and construction was budgeted at $3.4 million. Through an overall bond, $3.8 million dollars was raised for a complete renovation, which included several pools, a bathhouse, and a new concession stand that could be accessed through both the pool area and Gregg Park. Once the funds were raised and the project put out to bid, the contract was awarded to RenoSys Corp., located in Indiana.
The new design was comprised not just of a single pool, but rather four bodies of water—three pools and a splash pad. Additionally, a climbing wall and lily pad walk were incorporated. These two features were paid for by additional donations totalling $80,000, which were provided by citizens and local businesses after the job went to bid.
The main pool was to include two large flume slides—one open and one closed—and would be divided into two sections: a slide plunge pool, measuring 6.7 x 7.3 m (22 x 24 ft), with a depth of 1.09 m (3.6 ft) on one side where the slide would empty; and another area, separated by a 2.7 x 2.1-m (9 x 6.9 ft) transition, roughly 17 m (56 ft) wide, 22.9-m (75 ft) long, and 1.8 m (6 ft) deep, and comprised of eight lanes. This pool's perimeter measured 108.5 m (356 ft) and required just over 654,876 L (173,000 gal) of water.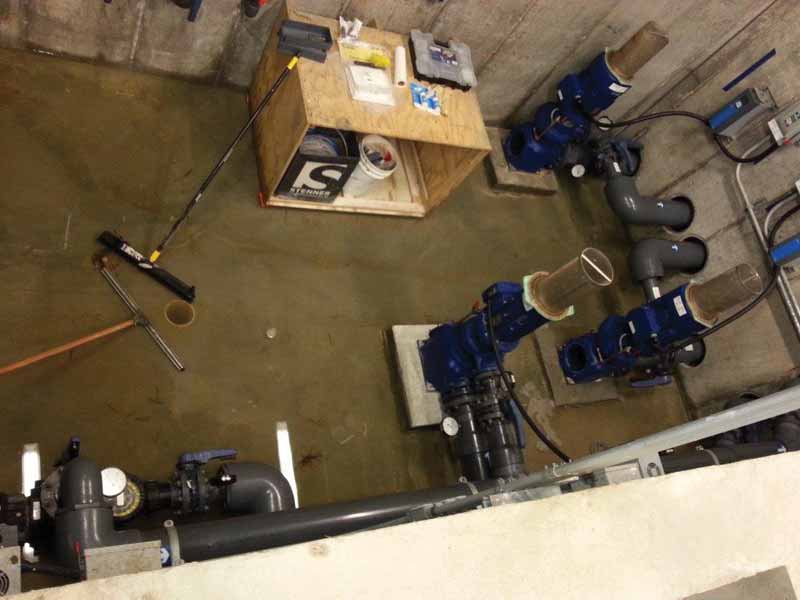 The second pool, designed for small children and families, would also be divided into two sections, connected via a 2.4- x 6.4-m (8- x 21-ft) transition. This installation would include a 10.9-m (36-ft) wide, 15.8-m (52-ft) long shallow area, featuring a zero-depth entry and a play area with a small slide; and a deeper 'activity pool.' This 8.5- x 14.6-m (28- x 48-ft) section would be home to the project's custom-designed lily pad walk. This floatable stepping system was designed to be anchored to the floor with a net system stretched across the pool. The second pool's perimeter measured 100.5 m (330 ft) and required 155,202 L (41,000 gal) of water.
The project's third pool would be a 3-m (10-ft) deep diving pool—something not common in today's aquatic facilities. The 10.6- x 8.5-m (35- x 28-ft) installation would include two dive stands with competitive diving boards, as well as the community-funded 3.7-m (12-ft) tall climbing wall. This pool's perimeter measured 39.6 m (130 ft) and required 280,121 L (74,000 gal) of water.
Finally, the project's fourth body of water would be the splash pad, which would be equipped with water-dumping amenities and spray features, which included a water tower, splash umbrella, and misting water wickets, all of which were created by Water Odyssey. This section would extend into Gregg Park and remain open for park-goers into the evening summer hours, after the pools were closed for the day. The splash pad's perimeter measured 144.8 m (475 ft) and used 9085 L (2400 gal) of water.
In addition to the pools, RenoSys was contracted to build the facility's new bathhouse, which would include locker rooms, offices, and a concession stand for visitors.