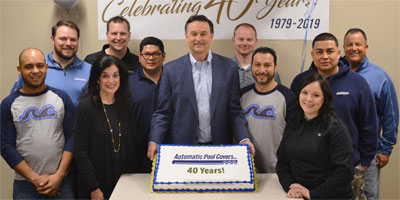 Automatic Pool Covers Inc., recently celebrated its 40th business anniversary.
To commemorate the occasion, the company held a party in late February to thank its employees and clients for helping the company achieve this milestone.
"We wouldn't be here today without our amazing employees and customers, to whom we are all very grateful," said the company's CEO Michael Shebek.
Automatic Pool Covers Inc., opened its doors in 1979 as a small pool cover distributor.  At … Continue reading Automatic Pool Covers celebrates 40 years
+ Read More