By Greg Fournier and Scott Petty
This season, hundreds of thousands of pool owners will likely replace their pumps because either their current equipment has reached the end of its life or they want to take advantage of the energy efficient benefits of today's new systems. Some will replace old single-speed pumps with another single-speed, but many will likely upgrade to a variable-speed pump (VSP).
VSPs deliver a wide range of benefits compared to single-speed units, including significant energy and cost-savings. When they operate at low speeds, friction or resistance from the pipe drops, so pumps do not have to work as hard and energy is saved. VSP technology has made quite an impact on the pool and hot tub industry in the last few years. With rebates on the rise (e.g. the PoolSaver program offered by a number of utility providers in Ontario, including Toronto Hydro, Oakville Hydro, Hydro Ottawa, Halton Hills Hydro, Milton Hydro and Burlington Hydro) along with a United States Department of Energy (DOE) ruling that will require the use of energy-efficient pumps beginning in 2021, the demand for VSPs will continue.
Most new pools are installed with some sort of automation and/or controls; however, the vast majority of existing pools do not have this type of functionality other than using some sort of time clock. In a world where one can do almost everything from their smartphone, the ability to control a pool, turn on the lights, and set the water temperature, has been the same for 30 years.
Simplifying life
The rush is on to simplify life with mobile apps that control household functions, cars, televisions, entertainment; shopping… everywhere one looks there is "an app for that," except of course, most backyard pools.
A handful of pool owners do enjoy remote control freedom with advanced pool automation systems, but the time and cost to do so has been prohibitive. There is the $2000 to $2500 price of the system and the additional cost and hassle of hiring a licensed electrician to help with the installation. Many service techs to the aftermarket are not licensed electricians and do not have one on their staff, which becomes a barrier to the trade because it is not in their day-to-day wheelhouse.
Sophisticated automation systems are chiefly aimed at new pool installations and not the basic needs of existing backyard pools. The digital revolution for millions of pool owners has been stubbornly out of reach. Their 'remote control' is the on/off timer switch out in the backyard.
Technology for the 21st century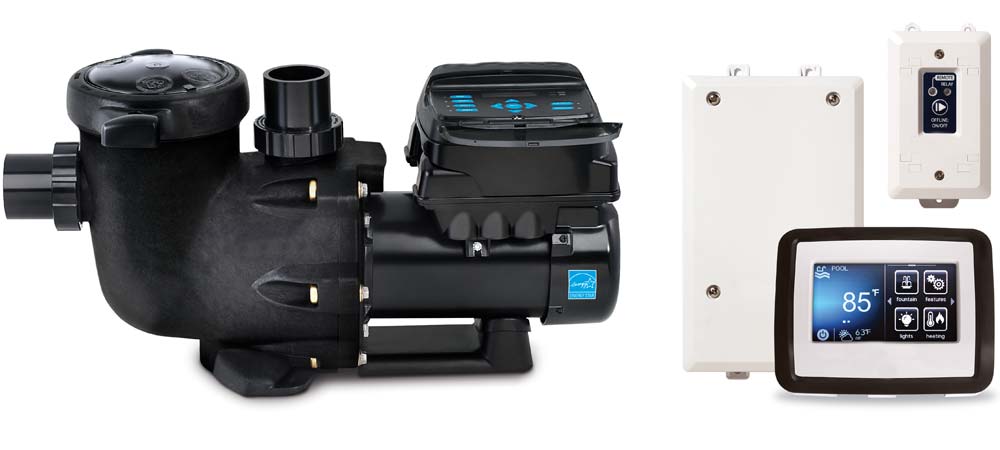 There is an opportunity to make automation, along with variable-speed technology, available to the aftermarket. By adding the ability to control other equipment, leveraging intuitive backyard automation systems, new technology like VSPs with smart control can bring many pools into the 21st century.
Major industry manufacturers are introducing smart control systems aimed at the retrofit market. This new technology includes a VSP with smart control built-in for a complete pool pad. This set-up allows the pool owner to operate their equipment (e.g. pump, heater, pool lights, and booster pump) remotely. This equipment opens the door to pool owners who thought automation had passed them by or assumed the upgrade was beyond their budget. It also plays well with the pool professionals, with fast and easy installation.
Today, with the number of things that offer remote functionality, there is pent-up demand for homeowners who want smart controls for their pool. Why should they have to put up with trudging back and forth, shutting off lights, pumps, and filters when all that should be required is a quick tap, swipe, or voice command? With this technology, a pool built in the '70s can now be controlled from a smartphone, while reducing energy costs by up to 90 per cent (a savings of up to up to $1500 annually versus single-speed pumps).