By Rob Kamstra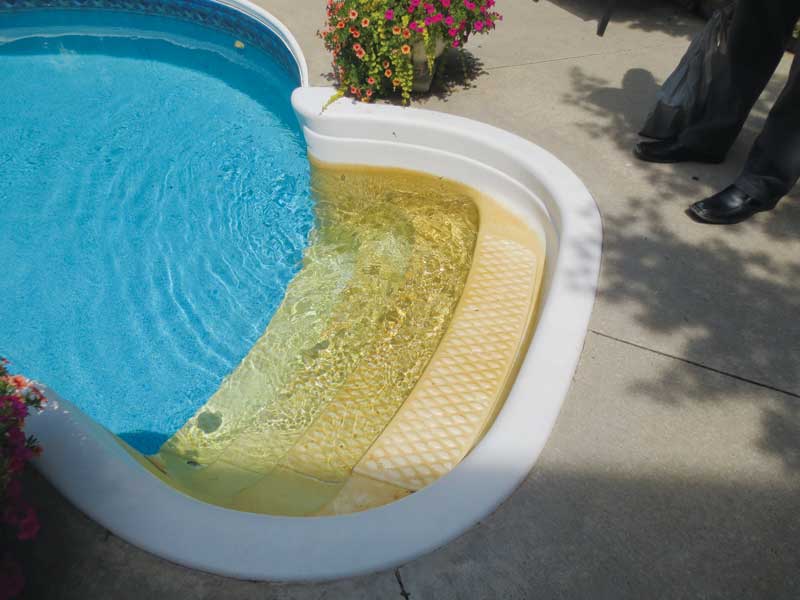 Metal stains in pools are unattractive and can be a distraction from their desired appearance. Not only are these unsightly blemishes difficult and expensive to diagnose and remedy, but they can also be nearly impossible to remove. Generally, no great amount of scrubbing and cleaning will fix the problem, which can be extremely frustrating for homeowners.
The presence of metals in water is, in fact, the heart of the issue. The most common metals that cause discolouration are iron and copper and, to a lesser extent, manganese. Stains, however, can also be caused by scale formations, organic deposits (e.g. pollen), and even algae (both green and black). Pink slime (a bacterial growth) is also a possibility, so is mould. They can cause liner discolourations and even grow behind the liner and show through.
That said, it is not uncommon for stains to be misdiagnosed when there are a host of possible causes. The key to finding a long-term solution is to determine where the metals in the water are coming from. Typically, metals can be found in areas such as well water, copper-based algaecides, ionization systems, pool heaters, copper piping, valves, and other metal parts. To prevent these metals from staining the pool surface, service techs should follow a few steps.
Test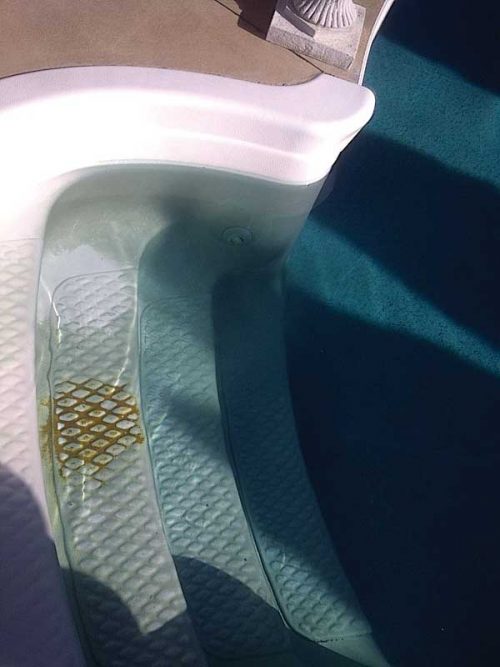 To identify the stain type, one must determine the metal present in the pool water and further test it to see if it can be lifted from the surface of the vessel. A water test is usually a good starting point to check for higher levels of iron, copper, or manganese. But remember, the metals may no longer be in the water if they have already oxidized or plated onto a surface.
Topical testing is the most accurate way to determine the metal type and whether or not the stain can be lifted from the water surface. The author recommends two testing techniques:
Technicians can use a specialized stain identification kit. Some consist of three different product pouches that can remove tough stains or scale. Each pouch—whether it is used individually or in combination—will remove a different stain type.
One must remember to test the pool water prior to using the kit to ensure optimum water ranges (chlorine, pH, total alkalinity [TA], total dissolved solids [TDS], temperature, etc.) for stain removal. If necessary, the water can be adjusted in a localized area on-site, as opposed to the entire pool.
The pump must be turned off to stop water movement. This ensures accurate results as circulating water can dilute and move the sample products applied to the water. Reasonable water temperatures are mandatory as part of the testing process. Readings may not be precise and may give a false negative result if the water is too cold. Higher amounts of chlorine can break down the test products and affect their performance; therefore, low chlorine levels are recommended. Also, lower pH and TA can enhance test reaction times.
Service techs should begin the test by applying a portion of the pouches in a localized area (where there is a stain) and observe to see if the product can lift the stain off the surface of the water. The first pouch removes iron and cobalt, while the second removes copper and scale. Sometimes, the stain removal process can be very quick. Other times, it can be slower, and take up to 45 seconds to show any marked result. The last pouch is an oxidizer that can make a metal stain noticeable at once, making it appear significantly worse. At first, one may think they have done something wrong, but this only means the pouch's contents have fully oxidized the metal into a form that is easier to remove. Returning to one of the pouches used earlier will then determine if the stain can be removed in its fully oxidized form. Note: Service techs can even apply individual pouches in different scenarios to see if a combination helps lift the stain from the surface.