Disinfection versus oxidation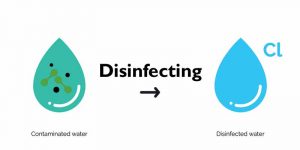 Chlorine is the most common chemical used in pools. The main reasons for this are cost and efficiency. Chlorine is one of only two sanitizers (bromine) registered with Health Canada's Pest Management Regulatory Agency (PMRA) and meets the requirements of an Environmental Protection Agency (EPA) approved disinfectant.
There are three main requirements of a regulated and approved disinfectant. First, the chemical must kill 99.9 per cent of disease causing organisms. Second, it must have the ability to oxidize non-living contaminant waste. Lastly, it must be able to leave a measurable residual behind in the water. Because it is a halogen, chlorine disinfects and oxidizes.
Disinfection, also referred to as sanitizing, is the effective killing of germs. Oxidation is the destruction of particulate non-living waste materials like skin and hair follicles. The primary reason for chlorine use is to protect swimmers from common maladies such as pink eye, earaches, and skin rashes. Further, protection includes the effective inactivation of E.coli, Giardia, and Hepatitis A.
One germ chlorine has a difficult time dealing with is Crypto. It can take more than 10 days to inactivate this parasite in a pool with 1 parts per million (ppm) of chlorine with a pH of 7.5. Chlorine inactivates most other germs within seconds to minutes with the proper residual. While chlorine acts as an oxidizer, its main role is killing disease-causing micro-organisms. Therefore, having an additional means of oxidation in place can help to ensure the most effective removal of threatening germs.
Incorporating additional and pro-active oxidation using the non-chlorine oxidizer shock product potassium monopersulfate (MPS) is one method. The use of either ozone or ultraviolet (UV) light is another proactive oxidation method that ensures cleaner water. In short, the purpose for adding chlorine is primarily to kill. Additional oxidation methods can help ensure this purpose is effectively accomplished.