By David Duensing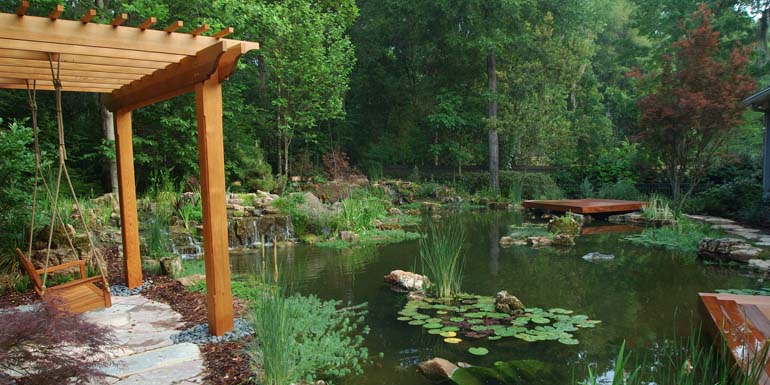 When designing a water feature, it is critical to consider not only the client's goals, but all of the elements in the surrounding environment to ensure the water feature will help unify the overall landscape plan.
One of the most dramatic benefits of integrating water into a design is it's ability to bring sound and motion to the environment. Other landscape elements, such as plants and hardscape, cannot. Water features add another enjoyable dimension to a property—when a homeowner or visitor hears the melody of moving water or visually senses movement in a garden or landscape, they tend to look in that direction to seek out and identify the source. Having said that, there must be balance within the environment, whereby the scale and orientation of the water feature works in harmony with the entire property.
In designing a water feature, the client's goals and concerns are the driving force of any particular project. Contractors often promote what they are familiar with; however, sometimes this does not always coincide with the client's expected outcome. It is important to recognize when a client requests assistance from a professional to design and build a water feature, the request carries considerable emotion, both good and bad.
On the upside, as the client is envisioning and desiring a bit of paradise in their living space, it is often easier to close the deal. The downside, however, is the term 'water feature' can be an intangible description of what the end result can be. This can make it difficult for the client and contractor to come to an agreement on a design without visiting a comparable project or viewing several accurate images of what the client desires and what the contractor is expecting to build.
Guidelines for use and enjoyment
The following guidelines can help a landscaper envision the potential project from the client's perspective and minimize conflicts.
First, it is important to recognize each client and property are unique; options and opportunities for a particular water feature design must be personalized. Make sure it is understood how the client intends to use and/or enjoy the water feature.
One of the most common goals a client has when doing any type of landscaping is to enhance the property's appearance, regardless of how large or small the space might be. For example:
Water features for esthetic purposes can provide long-range views of ponds and stream surfaces and opportunities to enjoy the water's reflections;
For larger estates, water is often used to draw the eye to key property elements or focal points; and
More intimate settings, such as a Japanese garden, provide personal space, a destination and multiple viewing angles.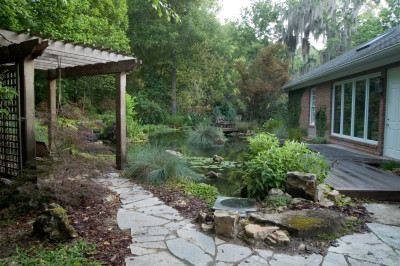 A popular characteristic of a Japanese-style water feature is it doesn't typically reveal itself entirely from any one location, which can lead one to assume the feature is larger than it actually is. There also tends to be a touch of mystery with this type of garden design, promoting the desire to explore and see what may be around the corner—especially when there is sound or vision of moving water coming from a hidden area.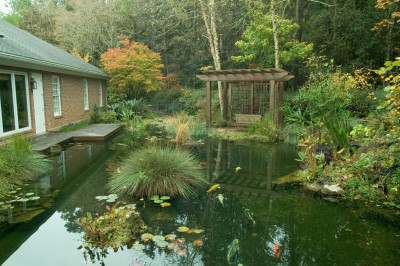 Some clients are looking to develop opportunities for personal interaction or to expand on a hobby such as tending to Koi, gold fish and/or aquatic gardens. One of the most important rules to keep in mind when designing a water feature is to bring the water as close to the client as reasonably possible. This makes interaction easy and allows the water feature to become a part of the client's daily life. Usually, water features built further out into the property are not visited as often as expected and not enjoyed to their full potential.
Another reason location is important is because unvisited water features are usually not maintained properly. If the client is not able to enjoy the water feature in some manner on a daily basis, there is a good chance the design did not reach its full potential. This can also translate into a lack of future business referrals.
Some techniques for making water features easier to access and interact with involve creating 'destinations,' e.g. an overhanging rock, deck or stone terrace at the pond's edge, bridges over streams, boardwalks across portions of a pond or even through an aquatic plant bed.
Other options include creating a private sitting area in the garden or providing specific windows of the house with framed views of the water feature. Keep in mind water not only attracts adults, but also small children, so any structures next to or within the water environment must be stable and safety must be taken into consideration.