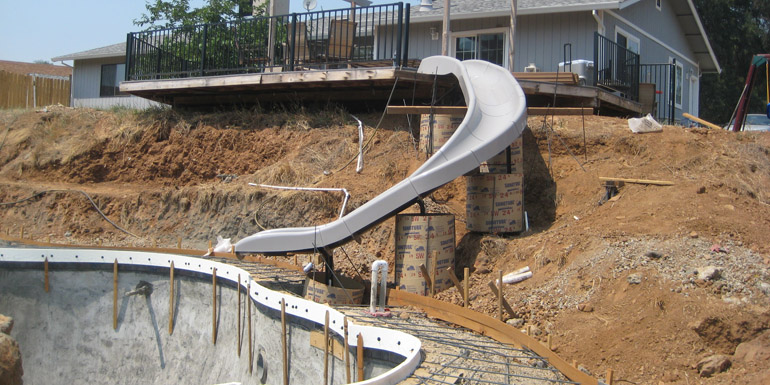 By Kathryn Varden
Everyone smiles when they think back to those childhood days of summer pool parties. Many have fond memories of friends cannonballing off the diving board or swooshing down the slide into the pool. Parents today want the same experience for their children, but how do they tear them away from the Internet or video games to get them outside and play? Easy—build them a fun backyard pool with a waterpark-like slide.
Many pool owners want a place for the kids to play, yet still have an esthetically pleasing pool in their backyard—similar to what can be found at a luxury resort hotel in a tropical locale. This trend translates into more upsell opportunities for pool dealers. Although most homeowners cannot afford to create a resort-like backyard waterpark, dealers can still offer various slide configurations to fit any budget.
Standard slides, made out of acrylic or roto-moulded plastic and simply mounted on the pool deck, are the most popular as they can be easily added to an existing pool or new construction project. In the last 10 years, these slides have come a long way in terms of colour selection, runway styles, and safety features. Prices vary by manufacturer; however, they typically cost between $1,500 to $4,000 (installed).
For more high-end installations, custom slides are also becoming increasingly popular as they provide a resort-style attraction to the backyard pool. These custom slides can be constructed of tile, gunite/concrete, or pre-fabricated modular flume pieces. Pre-fabricated models are generally made out of commercial-grade fibreglass and have a gel coating. In most cases, these slides are included in the design of new construction projects or during major pool renovations. These vary in price between $5,000 to $15,000 depending on how many twists, turns, and features they offer. The most popular custom slides are those designed to wrap around a rock-grotto waterfall or come cascading down a landscaped hillside.
Benefits of modular slide systems
One of the advantages of incorporating a modular slide system into a swimming pool design is that it provides builders with a better idea of what the completed slide will look like and any guesswork involved in configuring its slope is eliminated. Typically, a modular slide manufacturer can provide a builder with a CAD drawing of the slide as well as a DWG (DraWinG) binary file, which stores 2-D and 3-D design data that they can import into their computer drawing. Further, modular slides are available in a variety of colours, allowing them to be easily integrated into most backyard landscapes.
With help from the slide manufacturer's engineering department, builders can safely incorporate various flume pieces into endless configurations to provide the homeowner with a one-of-a-kind custom pool slide.
Further, thanks to innovations in design and construction, along with their ease of installation, an increasing number of builders are now installing these slides. In fact, one of the most popular choices among pool builders are slides manufactured using resin transfer moulding (RTM) technology to create gel-coated fibreglass flume pieces that are strong, lightweight, and easy to install.
Most manufacturers offer a number of different flume pieces in either 15- or 30-degree slopes with a single water-delivery system.