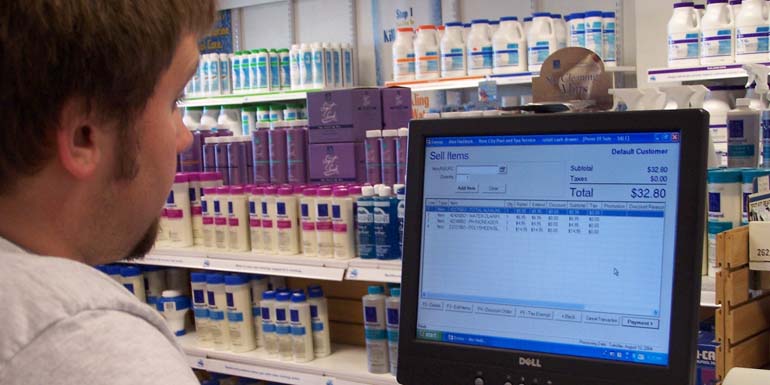 By Christina Braks
As a specialty retailer, you have an immediate advantage over big box retailers simply by being specialized.  You may not have as many product lines available and your prices may be slightly higher, but you have a few advantages that big box retailers simply can't compete with.  To begin with, you have the unique ability to create personal relationships with the client which leads to a superior customer service experience for the customer.  You also offer value-added services such as water testing and pool schools which leads to high retention rates.  You also install, service and warranty the product you sell which is invaluable for specialty products such as spas and pool equipment.  Despite all that, sometimes the big box retailers gain the advantage by implementing vast computer systems and developing impressive distribution channels.  So how can you compete with all that power?  You can integrate your own business, thus allowing you to offer even higher levels of customer service, reduce costs and run more profitably.
Integrating your Business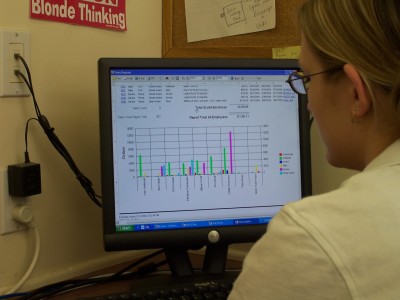 Business integration is about automating the flow of data throughout the organization through integration of different business processes and management systems.  Previously, this was done by managing the flow of paperwork through the organization using physical inboxes and carbon copies.  Although you could attempt to control this process, it was inevitable that information was lost or misplaced.
Today, the most effective way to integrate your business is to implement business management software that integrates every department of your organization.  This not only creates an environment where key information is immediately available to employees, but it allows the business owner to strategically analyze the performance of the business without spending hours sifting through paperwork and compiling data.
Benefits of Integration
When thinking about business integration, it is important to remember that a business is never comprised of a single department and rarely is one person doing all the work.  In a typical pool & spa business, you have sales people, service technicians, purchasers, warehouse personnel, marketers, managers, bookkeepers and owners.  Although every person and department serves a unique function they all require similar information to be effective.  By integrating your business, you reduce costs, eliminate confusion, improve the customer experience, empower your employees and strengthen the information behind key business decisions.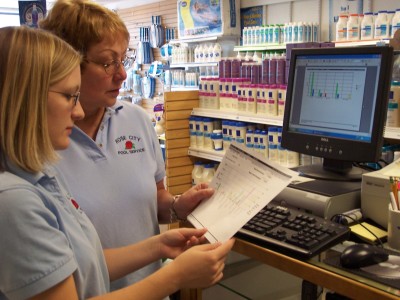 Let's take a look at how business integration can improve the customer experience.  Most importantly, business integration creates a single location for all customer data.  This enables every person in your organization to assist a customer without multiple phone calls to three different departments.  It also gives immediate access to important information such as purchase and service history.  This is essential for any department.  For example, retail employees can tell the customer they need a C-4950 filter, not the C-5601 they're holding in their hand.  Sales can send reminder emails to clients when it's time to replace their silver ion cartridge. The service department can immediately contact 500 customers when a heater element is recalled and marketing can create a list of all customers that purchased a Grandee spa in the last two years.  Instant access to this information not only impresses the customer, but makes them feel valued by your organization.  The customer will feel like the employee understands their needs and has the resources available to provide the highest level of service possible.
Business integration also saves you money by providing accurate information when you need it.  Inventory, for example, is a huge source of cost savings through business integration and any business owner will tell you that inventory control is one of the key elements to a successful and profitable organization.  Inventory purchasing is one of the departments that need the most accurate information available regarding current quantity on hand across all locations and quantity required for customer orders or general stock.  By centralizing ordering and implementing a solid inventory management software solution, businesses can save tens of thousands of dollars every year by tightly controlling the inventory replenishment process and ultimately reducing inventory on hand.   There's little worse than sitting on $100,000 of inventory that won't move, isn't needed and should never have been ordered.  This is difficult, if not impossible, to avoid without solid business integration.
Another important benefit to integration is the powerful data available to business owners for strategic business decisions.   By compiling all business information into a single database, the business owner can generate financial reports, sales figures, inventory analyses, marketing ROI and more from a single data source.  This allows the business owner to quickly identify problems and areas for improvement as well as opportunities for growth or expansion.