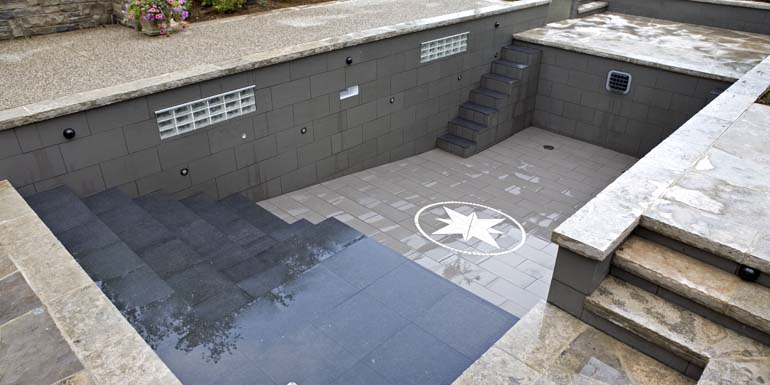 By Barry Justus
It is interesting to look at photos of award-winning pools and projects showcased in various trade magazines. Rarely is there any interest or focus placed on what is happening inside the pool. Often, photographers go out of their way to avoid showing the pool interior, especially white-plastic steps that are common with packaged vinyl-pool kits.
It is the details that make the project. The overall design of a backyard project is often completed by landscape architects, architects or designers with little training or knowledge of the unique intricacies in the specialized field of pool and spa construction.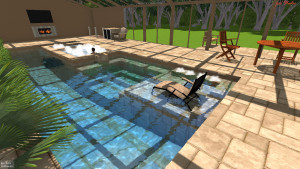 With this in mind, the pool professional should be involved throughout the entire project, from beginning to end. Input from the pool builder/designer is especially crucial on the pool design concept, as well as the edge interface and interior layout. In some cases, the designer/builder often works with a simple plan view layout (an orthographic [2-D] projection of a 3-D object) of the pool and surrounding landscape, with absolutely no details of the pool's interior (or plumbing, soil conditions, equipment pad and other pertinent information required to accurately price and complete a project).
Often pool designers/builders are called upon to build just the pool. As such, this article will focus on pool interior details, starting from the deck /pool interface.
Critical areas for project longevity
The area immediately adjacent to the pool shell is of critical importance to the longevity of the project, as the pool deck must be separated from the pool shell. To do this, mastic (flexible cement) joints comprising foam, caulking or self-levelling caulking are used to act as a barrier between the moving pool deck (frost heave, expansive soils, settlement of backfill) and the immovable pool shell. Failure to include this often neglected construction element can lead to serious pool coping and waterline tile damage.
On vinyl pool construction, the mastic joint must be included between mortared-stone coping and the pool deck. The deck must be constructed independent of the pool shell. A common and successful practice for vinyl pool construction is to pour a 1-m (3-ft) or less, concrete beam sitting on concrete-filled sonotubes adjacent to the pool shell.
Edge treatments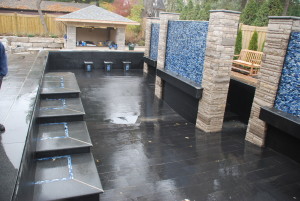 Pool contractors have a number of options when finishing the pool edge. The most difficult to construct are knife-edge, perimeter-overflow pools. Both deck level and raised bond beam perimeter overflow designs can be constructed using the knife-edge technique. If the client has the budget, and the builder has the construction knowledge and skill set, this edge treatment is a top-of-the-line addition to any project.
A wide bond beam perimeter overflow is the most common design used when constructing a deck-level, perimeter-overflow pool. This edge treatment provides the 'wow factor' most homeowners seek; however, this design technique requires great attention to detail. A vanishing-edge or infinity-edge pool can be constructed in both vinyl and concrete pool shells. This detail is more familiar to consumers and is easier to build than perimeter-overflow pools.
Attention to detail is also beneficial when designing a standard pool edge. For example, skimmer lids, auto-fill lids, remote control buttons and air controls can all be hidden, or at least colour co-ordinated, to blend in with the surroundings.