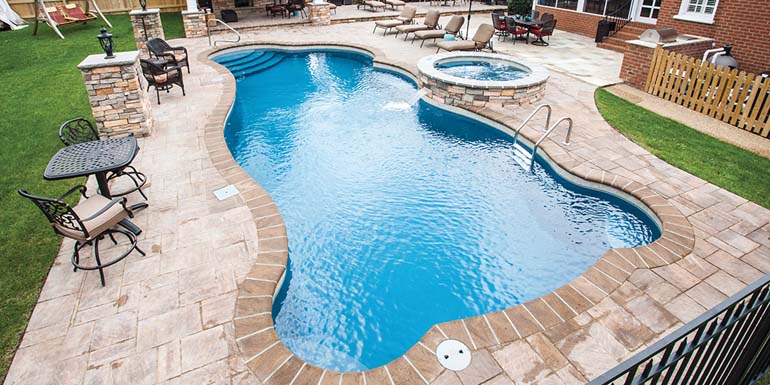 By Ted Baudendistel and Dave Throckmorton
Fibreglass inground pools are becoming a popular choice for homeowners and pool builders in Canada. One particular advantage is their one-piece construction eliminates a lot of the time-consuming labour that is required to install other types of inground pools. In essence, a pre-constructed composite shell is placed into a prepared hole in the ground, as opposed to assembling a truck full of components or pouring and curing large amounts of concrete.
This does not mean every fibreglass pool installation is cut and dried, however. In fact, every installation is different and there is potential for any one of a number of problems to arise—from the type of terrain, to the site grade, and especially water and soil conditions. To master these challenges, it is important to be mindful of several core principles and take steps to always ensure they are addressed. This article will discuss several of the most common challenges and provide guidelines to overcome them successfully. It should also be emphasized beforehand that the manufacturer's supplied dig sheet should always be followed. They know their products best, and following their instructions is important to ensuring a successful job.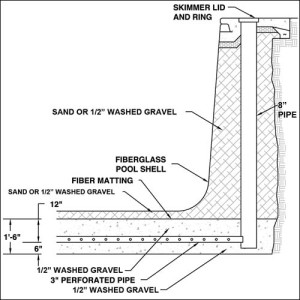 Watch the water table
Every pool installed in an excavated hole faces the same challenge: the changing nature of the water table, which comprises the upper level of underground soil or rocks that are saturated with water. A hole dug today may appear perfectly dry, but a few months from now, or next season, the water table may rise due to changes in precipitation, variations in climate, or the amount of water being drawn from wells in the area. Therefore, do not assume a high altitude will exempt the job site from water problems—groundwater complications can even be experienced on top of mountains.
The water table needs to be taken into account as excess hydrostatic pressure, from outside the pool wall, can cause structural damage. One of the key principles to fibreglass pool installation is to consistently maintain equal pressure inside and outside the pool—no matter the water table level.
Dewater the excavation
When excavating for fibreglass pools, look to dig  a fairly tight hole. This will not present a problem during construction because not much work needs to be performed between the one-piece fibreglass shell and the sides of the hole, so extra room is not required. Therefore, the excavation should be prepared very close to the actual pool size, taking into account the size of the coping being installed (typically 152 to 305 mm [6 to 12 in.].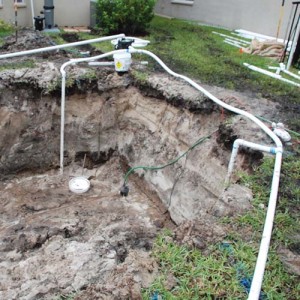 Should the excavation be too big, additional labour and materials will be required. That said, an over-dig of 76 to 100 mm (3 to 4 in.) for the floor and 152 mm (6 in.) for the walls is recommended. Should the over-dig exceed these measurements, never use excavated material to backfill, as it will settle. Should backfill be required, follow the manufacturer's guidelines with regards to the proper materials.
If water is found during the excavation process, the hole will need to be dewatered. In this case, there are a number of techniques to consider. One best practice is to install multiple well points (i.e. pipes in the ground) that will draw water out from several locations. A gravity-fed daylight drain is also an acceptable choice.
For fibreglass pools, the installation of a permanent sump pipe is strongly recommended (see Figure 1). This provides a means of checking for groundwater around the pool and evacuating it in the event the water table rises at some point in the future. Further, should the pool need any work later on which requires the water level to be lowered, the sump pipe can be used to minimize hydrostatic pressure outside the pool. This can be considered the cheapest form of insurance that the installation will not face any problems later on.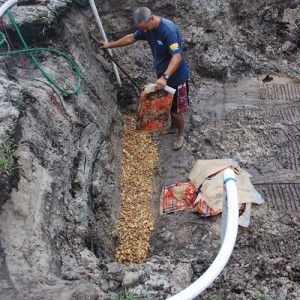 To install the sump pipe, dig a 0.45- x 2.4- x 0.45-m (1.5- x 8- x 1.5-ft) trench across the deep end of the excavation. Place 152 mm (6 in.) of clean 13-mm (0.5-in.) gravel in the bottom of the trench. Then, place a section of 76-mm (3-in.) perforated polyvinyl chloride (PVC) pipe on the gravel base and connect it to a 203-mm (8-in.) vertical stand of PVC pipe running to the surface of the excavation.
Cover the new sump pipe with landscaping fabric (a.k.a. geotextile). This textile is manufactured from chemical-resistant synthetic fibres, which do not biodegrade. The fabric allows water to flow through while preventing the soil and backfill materials from entering and clogging the PVC pipe. After making the connection to the vertical stand, cover the perforated pipe, to the bottom of the excavation, with an additional 13 to 25 mm (0.5 to 1 in.) of clean gravel. Finally, trim the 203-mm (8-in.) PVC riser and install a skimmer ring and lid for esthetics and safety.
Base preparation for challenging soil conditions
In addition to the presence of water, the soil condition can present potential challenges. In Canada, the soil quality can vary—from being sandy in lake areas to spongy, loamy conditions often referred to as 'gumbo.' Proper soil compaction is critical to have a stable and well-fitting fibreglass pool installation. It should be kept in mind how heavy a pool filled with water is. For instance, a typical 4.8- x 12-m (16- x 40-ft) pool will contain 56,781 L (15,000 gal) of water, which is equal to 54,431 kg (120,000 lbs). This does not take into account the fibreglass shell which weighs approximately 1134 kg (2500 lbs). Considering this, thorough preparation of the base of the excavation will prevent the pool from settling and the creation of stress cracks.