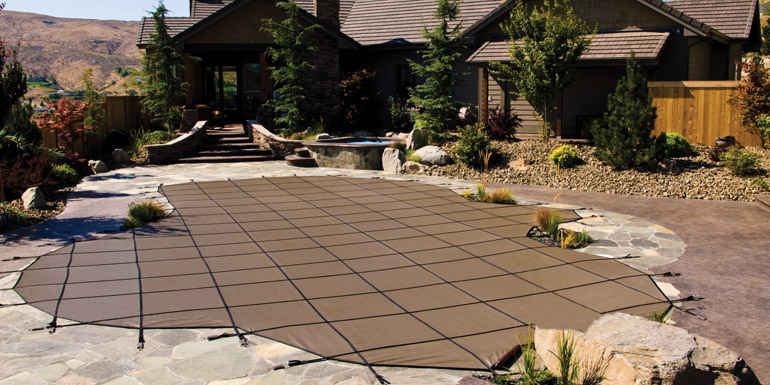 By Mike Preuit
Safety covers were developed to keep pools safe when they are not in use, or closed for the season. In some parts of North America, pools are closed for the same length or sometimes longer than the actual swimming season (i.e. the 2013-14 winter/spring). That being said, many of today's backyard landscapes are designed with the swimming pool serving as the focal point. During the offseason, homeowners are forced to look at their closed pool for many months and the last thing they want to see is an unsightly cover or nasty swamp that does not co-ordinate with the theme or style of the backyard. As a result, more consumers are asking about safety cover colour options and savvy retailers are picking up on this and altering their sales approach by focusing on having the safety cover complement the backyard décor—even when the pool is closed for the season.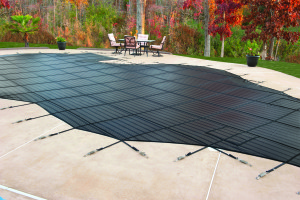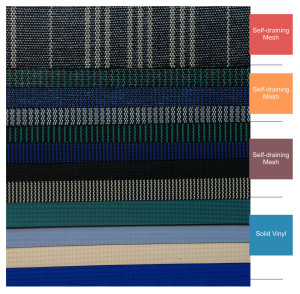 Not only do these new colours help sell more covers, the profits for retailers can be much higher when selling designer safety covers, which have become extremely popular over the last few years.
When safety covers first hit the market, there were only two colour options—green and blue—and one fabric type. Today, manufacturers not only offer various colour options, but also different fabric types—mesh and solid—which offer different benefits to the end user. Black and tan, grey and blue, and now patterned fabrics that combine black and tan mesh are available to give consumers a choice when co-ordinating the safety cover with other backyard décor.
A changing attitude
Jeff Simmons from Sandollar Pools in Brewer, Me., is one example of a pool professional that has altered his safety cover sales pitch with a new emphasis on the benefits of year-long backyard beautification with the purchase and installation of a designer safety cover.
"In this area, swimming pools are closed and covered for up to eight months of the year. In this regard, homeowners still want the pool area to look nice during this time," says Simmons. "Most people are familiar with or had a tarp-style cover, which uses water bags to keep it in place. These covers are not particularly attractive as they become a basin for leaves and water, creating an untidy eyesore in the backyard."
As a result, Simmons says it is easy to convince people to put a safety cover on their pool simply by explaining the virtues of a cover that will look terrific when their pool is closed.
"These covers fit tight and straight, and as an added bonus they will make their pool area safer in the winter," he adds.
Mike Mancini of Fox Pool and Spa Leisure Centre in Burlington, Ont., agrees. He says there is definitely a trend toward upselling customers into purchasing a safety cover over a standard vinyl tarp and the new colours manufacturers are making available are helping the sale.
"We always include a standard vinyl safety cover in our new pool construction package with an additional cost to upgrade to a safety cover, but today's pool designs don't really lend themselves to standard winter covers," says Mancini. "Water features and retaining walls alone make it virtually impossible to use a standard winter tarp."
Mancini finds his customers who are interested in having a safety cover want it to co-ordinate with their backyard.
"It started with tan colours, which looks great with natural stone and interlocking pavers," he adds. "Now we are seeing an increase in demand for grey mesh safety covers in backyards where the home has similar colours and tones."
For many consumers, it is not just the colour that is important, it is the simple fact the cover looks good and does not become a vessel that accumulates water and debris.
"We find customers who had a standard vinyl winter cover installed when they first had their pool built are interested in a safety cover when it comes time to replace the cover," says Mancini. "They have seen their neighbours' pools which have safety covers and realize how much cleaner the pool looks and how the entire backyard is more esthetically pleasing when a cover that matches the backyard's colour-scheme is used."
Most of the pools Sandollar Pools builds or services are designed with 'natural' colours—in the immediate pool area as well as throughout the landscape, which has made them quite successful when selling new safety cover fabric colours.
"Black and tan shades, and now new patterned fabric, are very attractive and easy to sell," says Simmons, who helps guide his customers toward the colours he thinks will look best. "I discourage blue because they don't want to emphasize the pool in their backyard during the winter, but instead have a cohesive looking backyard landscape."
He also often recommends green covers, especially when the customer has a heavily landscaped backyard in which this colour will look most attractive. Selling backyard beautification allows pool retailers to get away from selling covers as a commodity, but rather as a custom product that can command a higher price tag.