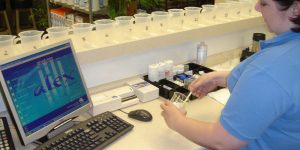 RB Pool & Spa software now offers the capability to integrate with water testing to provide an enhanced customer service experience in retail stores.
This improved feature can be particularly helpful as retail operations have pivoted to adjust to social distancing protocols within their stores and are experiencing exponential growth.
The Water Lab Sync saves time at the lab counter and at the cash register as this point-of-sale software connects with industry leading water-testing software eliminating double data entry in two systems which also allows users to look up a customers' past water test results in one database.
Business owners will longer need to interrupt a lab technician who is taking care of a customer to view previous test results. Staff can view reports by the customer or by the employee to view profits earned and lost from water test printout sales.